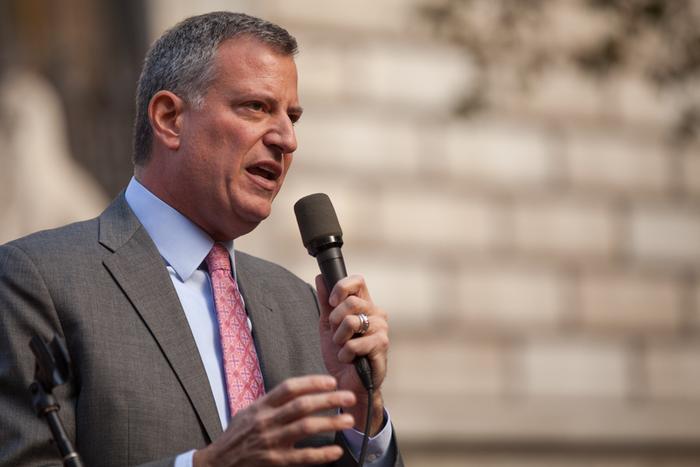 New York City Mayor Bill de Blasio did not hold back when it came to venting his frustrations about Amazon canceling its plans to build a second headquarters in Queens.
"This is an example of an abuse of corporate power," de Blasio told NBC's Chuck Todd on "Meet the Press" on Sunday. "Amazon just took their ball and went home. And what they did was confirm people's worst fears about corporate America."
Last week, de Blasio said Amazon "threw away" an opportunity by backing out of the deal.
"You have to be tough to make it in New York City," he said in a statement. "We gave Amazon the opportunity to be a good neighbor and do business in the greatest city in the world. Instead of working with the community, Amazon threw away that opportunity."
Amazon reneges on the deal
De Blasio, a Democrat, had been a huge supporter of the plan to have Amazon's second headquarters in New York. Last November, he claimed that it would be a boon to locals, including residents of a large public-housing development located near the proposed site.
But Amazon ultimately decided not to carry out its plan to build HQ2 in New York.
"After much thought and deliberation, we've decided not to move forward with our plans to build a headquarters for Amazon in Long Island City, Queens," the company wrote in a blog post last week.
The company said it will not look to replace New York with another city, but it "will proceed as planned in Northern Virginia and Nashville" and will "continue to hire and grow across our 17 corporate offices and tech hubs in the U.S. and Canada," according to CNN.
Democrats split
Although some Democrats are disappointed in Amazon's decision, others have declared it a victory. Congresswoman Alexandria Ocasio-Cortez (D-N.Y.), whose district is near the site where Amazon would have been located, gave her take to NBC.
"I think it's incredible. It shows that everyday Americans still have the power to organize and fight for their communities."
De Blasio acknowledged the division among progressives on Sunday, but argued that it's possible for progressives to govern effectively while also creating jobs.
"I am representing 8.6 million people, and a clear majority of those people believe we need more fairness in our economy. But of course, we need jobs, we need growth, we need revenue," he said. "Progressives can do both."
In an op-ed for the New York Times published Saturday, de Blasio wrote that the deal would have created up to 25,000 jobs. He expressed his dismay that Amazon couldn't handle even a small amount of public criticism about income inequality.
"The lesson here is that corporations can't ignore rising anger over economic inequality anymore," de Blasio wrote. "We see that anger roiling Silicon Valley, in the rocks hurled at buses carrying tech workers from San Francisco and Oakland to office parks in the suburbs."