---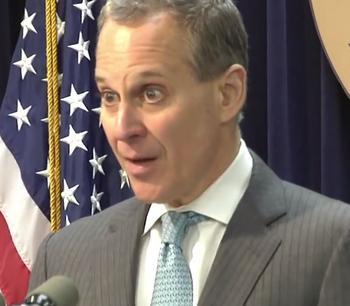 A New York woman has been charged with bilking immigrants, claiming she could help them with residency permits, Social Security cards and traffic tickets.
New York Attorney General Eric T. Schneiderman said Sonia Vertucci bilked Queens residents out of more than $38,000 in upfront cash payments, but never delivered any services or refunded any money.
"Scam artists who prey on immigrants, or other hardworking New Yorkers, with false promises will not be tolerated in our state," Schneiderman said. "No matter how elaborate their schemes, those who defraud New Yorkers will face justice."
Schneiderman said his investigation revealed that between 2012 and 2013, Vertucci promised immigrants Social Security cards and help obtaining legal residency status. She promised truck drivers she would clear up tickets and license suspensions to allow them to get back to work. In each case she demanded money up front, usually in cash, and then did nothing. Her alleged fraud cost victims more than $38,000.
Vertucci went to great lengths to cloak her scam with an appearance of legitimacy, Schneiderman said. The investigation revealed that she rented retail storefronts on busy avenues, with awnings and signs advertising "Express DMV Services," "Mailbox Rentals," "Auto Insurance," "Immigration," and other services. The stores had plausible sounding names, such as "Multi-Service Center" and "Tristate Business Center," and were populated with administrative staff.
Customers were falsely told that Vertucci had lawyers on call to assist her, and were given official-looking receipts for payment.
In reality, Vertucci had no businesses on file with the New York Department of State. She obtained leases for her commercial spaces by passing bad checks, and vacated – with victims' money – just before being evicted. She then set up a new store and defrauded new victims, Schneiderman said.
Vertucci most recently moved from Queens to New Rochelle. Anyone who believes they have been a victim of Vertucci is urged to call the Attorney General's immigration fraud hotline at 1-866-390-2992.
---