---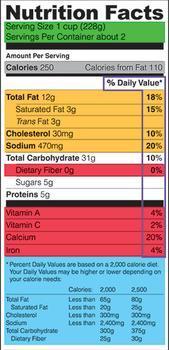 Can you remember the last time you bought a food item at the supermarket and did NOT check to see how many calories or grams of sodium it contained? Didn't think so.
It seems like something we've been doing for most of our lives, but it's only been for the past 20 years that the Nutrition Facts label has been required.
This now-familiar rectangular box provides -- in a standard format -- important information about the nutritional content for most packaged foods, including breads, cereals, canned and frozen foods, snacks, desserts and drinks.
A sea-change for consumers
"It was revolutionary," says Jessica Leighton, Ph.D., senior nutrition science and policy advisor in the Food and Drug Administration (FDA) Office of Foods and Veterinary Medicine. "For the first time, people had consistent information they need right at the point of purchase for the majority of packaged food products."
In the years since FDA issued the final rule for this labeling on Jan. 6, 1993, the Nutrition Facts label has influenced many companies to make their foods more healthful. Additionally, notes Claudine Kavanaugh, Ph.D.,M.P.H.,R.D., a scientist at the agency, "FDA was really a trailblazer in nutrition labeling. The Nutrition Facts label has been adapted by countries around the world that have chosen to mandate food labeling."
Label use increasing
The Nutrition Facts label was mandated after passage of the Nutrition Labeling and Education Act of 1990. Before it became standard practice, manufacturers provided nutritional information on a voluntary basis that wasn't consistent from product to product, explained Felicia Billingslea, M.S., director of FDA's food labeling and standards staff.
"The label is all about the attributes of the food," she said. "It's not to say that this is a good food or a bad food. It provides information that consumers can use and rely upon in developing healthful diets for themselves."
FDA survey data show that use of the Nutrition Facts label has been increasing. In comparing the Health and Diet Survey conducted in 2002 with the most recent one conducted in 2008, the percentage of consumers reporting that they often use the label rose from 44 to 54 percent.
This usage has influenced many companies to change their ingredients to make the foods more healthful and thus more appealing to many consumers.
FDA cites as an example the decrease in consumption of trans fat, which has been linked to heart disease, primarily because of a decrease in manufacturers' use of partially hydrogenated oils. From the late 1990s to 2010, trans fat intake in adults decreased from 4.6 grams to 1.3 grams per day, with most of the reduction occurring after trans fat was added to the food label in 2003.
Changes may be coming
FDA is planning to update the Nutrition Facts label based on the latest science-based nutrition recommendations.
Paula Trumbo, Ph.D., acting director of FDA's nutrition programs staff says updates are being assessed to address such factors as current nutrient recommendations, public health concerns based on recent data on food consumption, and the agency's desire to make this information as clear and useful as possible.
The updates are still being formulated. The public will be asked to comment when the changes are proposed.
---