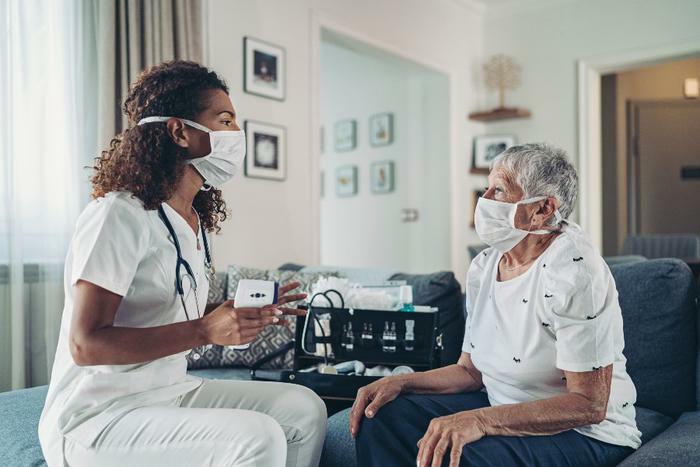 The number of new COVID-19 cases and deaths reported weekly in U.S. nursing homes has dropped by 66 percent since December, according to a report from the Kaiser Family Foundation. 
While the decline in cases and deaths does coincide with the administration of vaccines to the vulnerable group, Kaiser researchers aren't attributing the drop solely to vaccines. The researchers wrote that the timing of the drop in cases does "suggest a link" to the vaccine rollout. However, it's "still unclear how much of the decline in cases and deaths can be attributed directly to the vaccine." 
Bill Sweeney, senior vice president of government affairs at AARP, noted that COVID-19 numbers were so high around the holidays in the nation's long-term care facilities that they "didn't have anywhere to go but down."
"It's not enough to celebrate the vaccine," Sweeney told AARP. "We need to commit ourselves to getting to the root of the problem and improving the way we take care of people in this country who need long-term services and support."
Herd immunity could play a role 
Experts say nursing homes may be starting to see the impact of some level of herd immunity. Virus mitigation measures put in place by state and county officials may also be playing a role in the decline in cases, according to Justin Lessler, an associate professor of epidemiology at the John Hopkins Bloomberg School of Public Health. 
"During the big COVID surges, control measures were put in place," Lessler told AARP. "Some places had some fairly vigorous control measures — they reduced community transmission. Combined with the accumulated immunity in the population, [they have] been enough to turn the corner."
In the months ahead, Kaiser says the COVID-19 pandemic will continue to present challenges to nursing homes and long-term care facilities. The report authors said long-term infection control issues and staffing shortages remain. Some staff members have also been reluctant to get vaccinated.  
"Barriers to [skilled nursing facility] staff member vaccination need to be overcome with continued development and implementation of focused communication and outreach strategies," the CDC said in a February report.