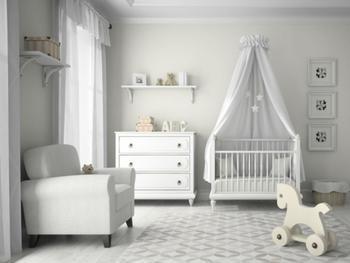 Before bringing home their new bundle of joy, most parents take steps to ensure the nursery is filled with only the safest and most reliable products. But nursery products may not be as safe as parents think.
A new study published online today in the journal Pediatrics finds injuries to young children associated with nursery products happen at an alarming rate and the problem is only getting worse.
"We looked at nursery product-related injuries treated in hospital emergency departments across the U.S. over a 21-year period," said Tracy Mehan, M.A., Manager of Translational Research at the Center for Injury Research and Policy at Nationwide Children's Hospital.
Head injuries
"In the last eight years of the study, injuries increased almost 25 percent, and most of them were concussions or other head injuries, which can be very serious in young children," Mehan said.
The study found that more than 66,000 children under the age of three are treated for injuries related to nursery products, such as cribs and baby carriers, each year. That's an average of about one child every eight minutes.
Eighty percent of the injuries were caused by a child falling, and injuries were most commonly associated with baby carriers, followed closely by cribs/mattresses, and strollers. The majority of the injuries were to the head, face, or neck (81%)
Four Rs
To keep kids safe, the researchers recommend that parents and caregivers follow the 4 Rs before bringing nursery products into their home.
Research. Go online and look at information from a trusted organization on what types or products are both useful and safe for your baby. Resources such as HealthyChildren.org, MakeSafeHappen, and cpsc.gov will have the newest research and most up-to-date recommendations.
Check for recalls. Go to recalls.gov and search for the product you are considering purchasing to see if it has been recalled. You might also want to sign up to receive alerts about future recalls since there's a new recall for a nursery product about every two weeks in the U.S.
Register your product. When you bring a new product into your home, register the purchase with the manufacturer. This will ensure you're notified if the product is recalled.
Read the manual. To reduce the risk of injury to your child, make sure you learn how the product works. Read the manual to learn when to lock it, when to buckle, where to use it, and where not to use it. Additionally, make sure that the product is the right one for your child's age and size.