---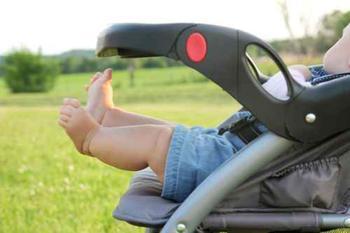 Strollers and carriers provide parents with means of getting some fresh air with their babies, but they aren't without risks. According to a new study, about two children end up in the emergency room every hour due to stroller-related injuries.
The study, published in the journal Academic Pediatrics, finds that 67% of children are injured as a result of falling from their stroller or carrier. Falls often result in bumps and bruises, but they can also cause traumatic brain injuries and concussions in 25% of cases (35% in the case of carrier-related injuries).
"The majority of injuries we saw were head injuries which is scary considering the fact that traumatic brain injuries and concussions in young children may have long term consequences on cognitive development," Kristi Roberts, MS, MPH, study author, and research associate in the Center for Injury Research and Policy at Nationwide Children's Hospital said in a statement.
Keeping children safe
Roberts said that although the number of injuries from strollers and carriers has decreased over the past two decades, it is still "unacceptably high."
Most commonly, injuries occurred as a result of strollers and carriers tipping over. To prevent accidents and injuries from occurring, experts recommend taking the following precautions when using a stroller or carrier.
Follow the manufacturer's guidelines. Keep kids seated and securely buckled at all times.
Don't let a young sibling push the stroller. Leave the pushing to a parent or trusted adult.
Make sure wheels are locked. Keep strollers from rolling away when parked by making sure the wheels are locked. Safety experts also recommend using caution if strollers are near a curb and in high traffic areas without sidewalks.
Don't overload your stroller. Resist the urge to hang your purse or bag on the handle of the stroller as doing so can cause it to tip over. Instead, hang bags under the stroller.
Get a size-appropriate model. Ensure your stroller or carrier can accommodate your child by looking at age and weight limits before purchasing it.
Keep carriers low. Low-to-the-ground carriers can shorten the distance of a fall, should one occur as a result of a tip-over.
Check for recalls. Check to see if your stroller or carrier has been recalled by visiting www.recalls.gov.
---