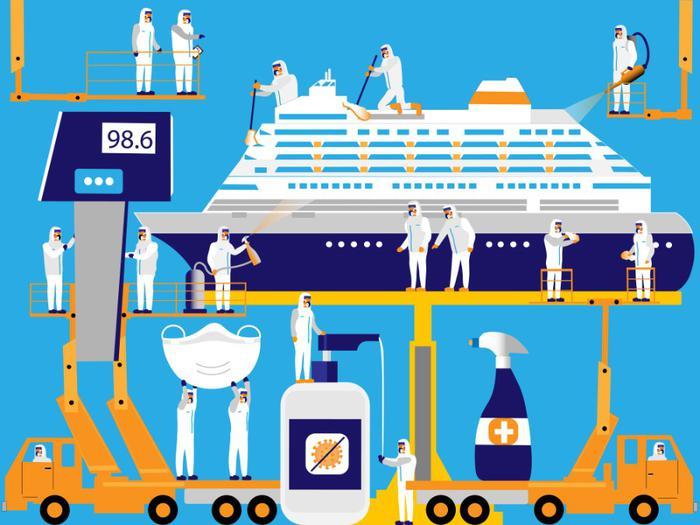 A panel of medical experts formed three months ago by Royal Caribbean Group and Norwegian Cruise Line have outlined a plan for keeping COVID-19 from spreading if the cruise line industry is cleared to resume operations. 
On Monday, the Healthy Sail Panel submitted 74 recommendations to federal regulators on how safe cruising could be made possible during the pandemic. The plan for reducing COVID-19 transmission centers around the following strategies: 
Educating, screening, and testing both crew and guests prior to embarkation to prevent COVID-19 from entering a ship;

Lowering crew and passenger loads;

Reducing transmission via air management strategies and enhanced sanitation practices

Implementing detailed plans to address positive infection on board, including contingencies for onboard treatment, isolation and rapid evacuation and repatriation;

Closely controlling shore excursions;

Contact-free check-ins; and

Enhanced protection for crew members.
The recommendations, which were also published on each cruise company's website, also include face covering requirements in accordance with CDC guidelines and daily temperature checks. 
"We know that both authorities around the globe and consumers expect cruise lines to provide the safest, healthiest vacations we can, and this work demonstrates our commitment to doing just that," said Frank Del Rio, president and CEO of Norwegian Cruise Line.
Limiting the virus' spread
Scott Gottlieb, former commissioner of the U.S. Food and Drug Administration and co-chair of the panel, said expert recommendations would help prevent the virus from entering a ship and mitigate its spread in the event that it does. 
"We believe you can create a bubble around this experience, where you put in place enough controls that you dramatically reduce the risk of introduction, and if you do have a single introduction, dramatically reduce further spread on the ship," Gottlieb told USA Today. "We have an environment that we can tightly control."
Cruise companies have been complying with a "no-sail" order for nearly six months due to the COVID-19 pandemic. Federal health officials put a halt on cruises in light of the virus' tendency to spread quickly in densely populated areas.  
The CDC and other authorities around the globe will review the recommendations and decide whether to give cruise ships the go ahead to resume operations. At this stage, cruise ship officials aren't sure when the CDC will authorize a return to sailing. 
"We're really not putting time frames on this," Fain said.