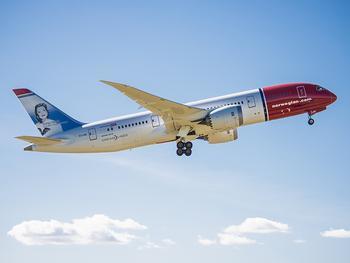 Travel between the U.S. and Europe isn't exactly cheap. That is, unless you get booked on one of Norwegian Air's newly-approved flights between the U.S. and Ireland and the UK, for $65 one-way.
The Trump administration has given the green light for the low fares after a protracted political battle. The application, which the Obama administration called one of the most complicated ever, was bitterly opposed within the airline industry and took three years to complete. The Obama administration gave preliminary approval to Norwegian Air late last year.
Norwegian says the low fare service will begin this summer and go to $99 one-way after the introductory promotion.
New York to Ireland
On its website, Norwegian Air is currently promoting $65 fares to Dublin, Shannon, Belfast, Cork, and Edinburgh, Scotland. Flights depart in the U.S. from New York, Hartford, Conn., and Boston/Providence.
The airline said it plans to expand its schedule in the future, which may be one reason its rivals and unions opposed the approval. According to The Hill, aviation insiders have accused Norwegian Air of attempting to skirt tougher regulations in Norway by establishing its hub in Ireland. It's also accused of trying to slash labor costs by hiring pilots in Asia, where salaries are lower.
Norwegian Air denies it, saying it plans to use mostly U.S.-based crews and U.S.-built plans. Still, unions representing pilots and flight attendants said they are considering litigation to overturn the approval.