---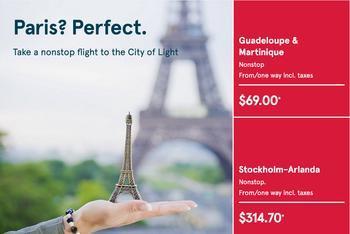 U.S. airlines have been so busy complaining about growing competition from Middle East carriers that Norwegian Air Shuttle has been sort of flying under the radar. But that ended Friday, when the U.S. Department of Transportation approved Norwegian's plans to expand cut-rate, no-frills, trans-Atlantic flights. 
The result could be a resurgence of the "backpackers specials" that were once offered by Icelandair and other carriers -- cheap flights with few amenities that enabled generations of young (and often not so young) Americans to bum around Europe when they had spare time but little money. 
Opponents say the cheap flights may look good to consumers but will be bad for business. Labor unions and domestic airlines have fought for years to keep Norwegian from winning approval for flights by its Irish subsidiary, which plans to shake up the lucrative trans-Atlantic market with some flights priced in the double digits.
Although it already flies a few flights, Norwegian plans to expand its schedule drastically once final U.S. approval for the Irish subsidiary is granted in a month or so.
No basis to deny
Labor unions have protested Norwegian's plans to use contract crews and U.S. airlines are pulling out every argument they can think of, but the Transportation Department said that under prevailing regulations and open skies agreements with European nations, it had little choice.
"There appears to be no legal basis to deny" the application, the department said. "DOT's show cause order states that, based on the record as a whole, as well as its consultations with the Departments of Justice and State, the provision in the U.S.-EU Agreement that addresses labor does not afford a basis for rejecting an applicant that is otherwise qualified to receive a permit."
Pilots and flight attendants unions have expressed alarm at Norwegian's plans to use contract crews and have said American wages could be affected. The Air Line Pilots Association called the decision an "affront to fair competition."
The European Union approved Norwegian's plans long ago and has complained bitterly about U.S. foot-dragging.
---