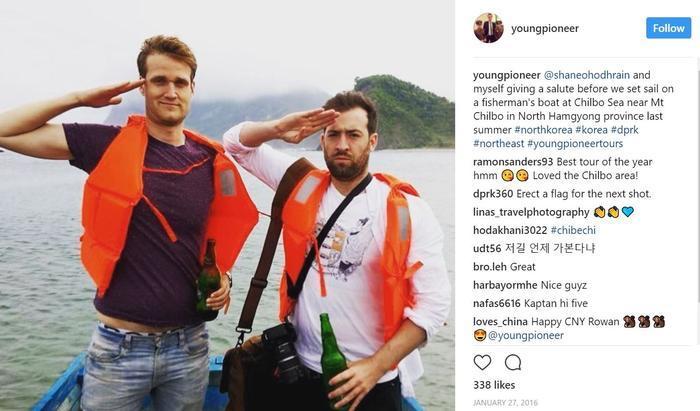 Otto Warmbier, the American college student who spent 17 months in detention in North Korea, has died, his family said Monday. Warmbier was detained at the end of a group tour he booked to North Korea and later sentenced to 15 years of hard labor, allegedly for "crimes against the state."
The North Korean regime released him last week to his family, but doctors said he had suffered a severe neurological injury and was not responding to verbal cues. In a public statement, the Warmbier family said the 22-year-old appeared to be at peace in his final days.

"He was home and we believe he could sense that," the Warmbiers said. They described their late son, who was the salutatorian of his high school class and a homecoming king, as "a warm, engaging, brilliant young man whose curiosity and enthusiasm for life knew no bounds."
Travel restrictions
U.S. lawmakers are now considering legislation to discourage Americans from visiting North Korea, which depends on tourism to boost its isolated economy but is also what the Department of State warns is a dangerous destination
"Let us state the facts plainly: Otto Warmbier, an American citizen, was murdered by the Kim Jong-un regime," Senator John McCain said in a statement. "In the final year of his life, he lived the nightmare in which the North Korean people have been trapped for 70 years: forced labor, mass starvation, systematic cruelty, torture, and murder." 
Youg Pioneer Tours no longer says North Korea "Extremely Safe!"
Warmbier's release from prison has put fresh scrutiny on Young Pioneer Tours, the company that Warmbier has traveled with.
During Warmbier's detention and even following his release from prison, Young Pioneer Tours continued to market its trips to Americans without referencing Warmbier on their website. The company's website as of last week still claimed that North Korea is "Extremely Safe!," among the safest places on earth and "Absolutely not!" a problem for Americans.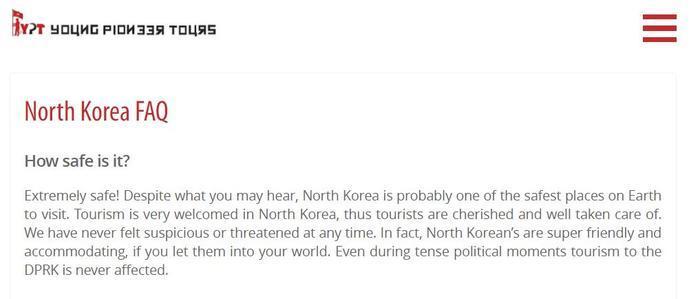 The company has since slightly toned down some of its more bombastic claims about North Korea being safe. Now, the Young Pioneer Tours website says: "Despite what you may hear, for most nationalities, North Korea is probably one of the safest places on Earth to visit provided you follow the laws as provided by our documentation and pre-tour briefings."
American tourists no longer allowed
Young Pioneer Tours finally addressed Warmbier in their marketing materials after his death on Monday.  "Our deepest sympathies are with Otto Warmbier and those who loved him. We had held onto hope that he might recover, and have the life that he should have had, but now those hopes are gone, and we too are reeling with the shock of a young man's life taken well before his time," the company's statement reads.

Warmbier's death has prompted the company to no longer accept Americans on their trips, they added. "Now, the assessment of risk for Americans visiting North Korea has become too high. The way his detention was handled was appalling, and a tragedy like this must never be repeated."

The Instagram accounts belonging to the people behind Young Pioneer Tours depicted its leaders partying shortly after Warmbier was detained, but the company says in their new statement that they made "constant requests" to see him.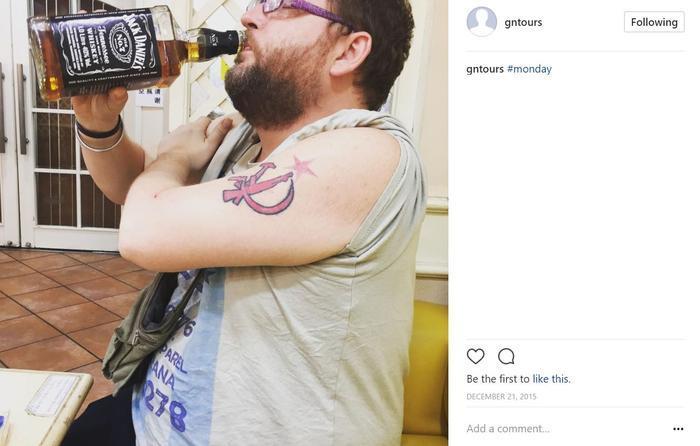 US-based tour company says no new American applications allowed
Young Pioneer Tours is not the only company reconsidering its policy for American tourists in the wake of Warmbier's death. 

The company New Korea Tours--advertising itself as "Most experienced US based DPRK Travel Specialists since 2005"--tells ConsumerAffairs that they will no longer accept travel applications from American tourists. 

But New Korea Tours did not say whether they would pull Americans from trips that they had already booked. "That will be decided on case by case basis," the company's general manager says via email.

What's more, it's not just Americans who experts say face risks when visiting North Korea. Other foreigners are also detained in the country's notoriously brutal prisons. And a British customer who traveled with Young Pioneer Tours in 2013 told ConsumerAffairs Monday that his guide was drunk throughout their trip and that his whole group nearly got detained on their way home. 

Other sources told the Washington Post that one tourist--it's not clear which company this tourist was with--did a handstand in front of a mausoleum, an offense that resulted in the local tour guide losing their job. It's just one of the many strict laws that has led officials to deter tourism to the area. 

Among other acts apparently banned in North Korea is capturing a photograph of a statue in which its face is covered in snow or not capturing a statue's entire body in a photograph.  The general manager of New Korea Tours, the company based in the United States, writes to ConsumerAffairs that photographing a statue covered in snow "is not possible as the statues are being cleaned immediately after snowfall."
Additionally, "It is prohibited to make photos of the statues not in full height (partial cut-off image). If you make a cut-off shot by mistake, the guide will delete this image, no punishment will follow☺."
Three Americans currently remain detained in North Korea.