---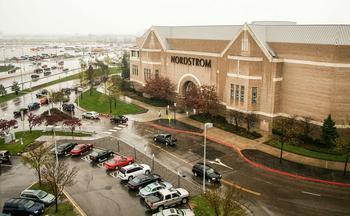 Earnings season on Wall Street has been revealing when it comes to retail fortunes. Shifting loyalties, emerging priorities, and evolving ways of shopping have been on display.
Amazon.com has been the major disruptive force, but traditional brick and mortar outlets like TJ Max and Ross have been big winners as well.
And there have been losers. Venerable retailer Nordstrom's earnings disappointed Wall Street and its stock price took a tumble. One major analyst downgraded the stock after Nordstrom reported a drop in comparable store sales in the first quarter and badly missed its projected earnings number.
Nordstrom has always enjoyed a sterling reputation among mid to high end consumers. It is valued for its quality merchandise and attentive service. Walk into a Nordstrom and you'll hear lovely music, played by a person sitting at a baby grand piano. That's Nordstrom.
But how does that play in today's mobile, Millennial-driven consumer culture? The retailer is making some adjustments.
Loyalty program changes
To compete for the value-oriented consumer, Nordstrom has announced changes in its loyalty program, making it easier for customers to earn $20 Nordstrom Notes. Customers can rack up benefits no matter how they pay for purchases, whether it's in a store or online.
"As customers' definition of service continues to evolve, we are focused on being responsive and delivering services and experiences that are important to them," said Erik Nordstrom, co-president, Nordstrom, Inc.
Nordstrom said the flexible rewards program is something customers specifically requested, so the company responded.
Under the adjustment, Nordstrom Rewards members earn one point per dollar when paying without a Nordstrom card. It's also easier to enroll. All you do is enter your name, mobile phone number, and email address.
Participation is easy too, the company says. Customers are not required to carry a card or remember an account number. The whole thing is keyed to the consumer's mobile phone number.
Social media
Nordstrom has also served notice that it is going after a younger clientèle. Bryan Galipeau, Nordstrom's director of social media and display, told emarketer this week that the company is stepping up its use of Snapchat to reach college-age consumers.
Social media, he says, gives the 115-year old retailer a chance to translate the quality of the brick-and-mortar experience to a mobile, digital generation.
---