---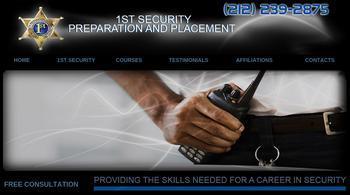 Being out of work is bad enough, but having it stuck to you when you're trying to find a job just pours salt into the wound.
But New York City-based 1st Security Preparation & Placement, Inc. and its owner, Allen Haft, are accused of doing just that.
In a lawsuit filed in Manhattan Supreme Court, New York Attorney General Eric T. Schneiderman charges the company and its owner used phony job listings and false promises of employment to con consumers into paying for expensive security guard training courses. In fact, he says more than 15,000 consumers may have been scammed since 2008.
In addition to filing the lawsuit, the AG's office also obtained a temporary restraining order freezing any assets the company or Haft may have. It also bars them temporarily from advertising job openings or selling security guard training courses.
"My office will not tolerate companies that break the law to take advantage of vulnerable, unemployed consumers," Schneiderman said. "Posting phony job listings during an economic crisis is a particularly cynical effort to prey on the hopes of struggling workers and families."
How it allegedly worked
The Attorney General's undercover investigation revealed that the company has posted hundreds of fake security guard job listings on Craigslist and in newspapers, including amNewYork, the Daily News, the New York Post and Metro. The ads make it seem like the company is hiring employees at high hourly wages when in fact the company is selling its courses, according to investigators.
1st Security is accused of falsely promising those who answer the ads that they have been selected for a position and says they must complete a series of security guard training courses, typically at a cost of $449 to $667.
After they pay for and complete the training courses, the consumers meet with 1st Security's placement office and -- instead of the promised jobs -- are given worthless "referrals" to security guard companies. When they follow up on the referrals, investigators say, the consumers are not hired for any position usually because the companies are either not hiring or not interested in hiring individuals with no experience. In fact, they find that the companies that they were referred to have no knowledge of 1st Security and are not expecting the consumer for an interview.
Other instances
1st Security isn't the only firm accused of such dealings. In 2011, Schneiderman's office brought charges against a company, known as both C.P. International Security, Inc. (C.P.I.) and Gateway Production Security, Inc.
Randolph of Pearl River, NY, has first-hand experience dealing with these kinds of companies. "I took two classes at Blue Steel Security school in Brooklyn, New York," he writes in a ConsumerAffairs post. "When I arrived there, they looked at my license and told me I had to take the 8-hour pre-assignment class and 16-hour on the job, instead of the 8-hour annual and a fireguard training class. When I sent in my license renewal, the state told me I had to take 8-hour annual. Now I am screwed because I can't get my license renewed, thanks to this school."
What to do
Anyone looking for work as a security guard should be careful about any training school that claims to be an employer or promises to place security guard positions for students. Be sure to read any contract with the security guard company carefully and -- before signing any contract -- check to see if the school is properly accredited.
Consumers should also keep in mind that low-cost and even free security guard training courses may be available. In New York, for example, the State University of New York's Manhattan Educational Opportunity Center offers free security guard training courses for individuals who meet certain income guidelines and many community colleges offer low-cost security guard training courses.
---