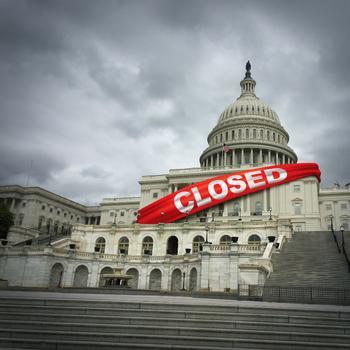 Hoping to visit a national monument or national park on the New Year's holiday? Don't count on it.
The U.S. government shutdown continues, and with congressional Democrats and President Trump digging in their heels, there doesn't appear to be an end in sight. The Senate adjourned Thursday and won't reconvene until the new Congress is seated on January 3, 2019.
As a result, thousands of federal employees have been furloughed and government agencies and institutions, including national parks, are closed.
"No end in sight to the President's government shutdown," tweeted Sen. Dick Durban (D-Ill.), the second-ranking Democrat in the Senate.." He's taken our government hostage over his outrageous demand for a $5 billion border wall that would be both wasteful and ineffective."
But the White House is pointing a finger at congressional Democrats. Officials say the group is responsible for the shutdown because they refuse to consider a spending bill that contains $5 billion to build a wall along America's southern border with Mexico to stop illegal immigration.
Trump took to Twitter Thursday after police in California announced they are searching for a suspect in the shooting of a police officer, identifying the suspect as a possible illegal immigrant.
"There is right now a full-scale manhunt going on in California for an illegal immigrant accused of shooting and killing a police officer during a traffic stop," Trump tweeted. "Time to get tough on Border Security. Build the Wall!"
House Democrats promise action
How long the government will remain closed is anyone's guess, but House Democratic leaders say they plan to immediately bring up a proposal to reopen the government when Congress reconvenes next week with a Democratic majority.
But that will require an appropriations bill to pay for government services, and it must also win approval of the Senate, which will still be under Republican control.
House Democratic Leader Nancy Pelosi (D-Calif.), who will become Speaker of the House next week, continues to blame the White House for the shutdown. In a joint statement with Senate Democratic Leader Chuck Schumer (D-N.Y.), Pelosi claimed Trump wanted the shutdown to placate members of his base.
At the White House on Thursday, spokeswoman Sarah Huckabee Sanders charged "the Democrat party is openly choosing to keep our government closed to protect illegal immigrants rather than the American people."