---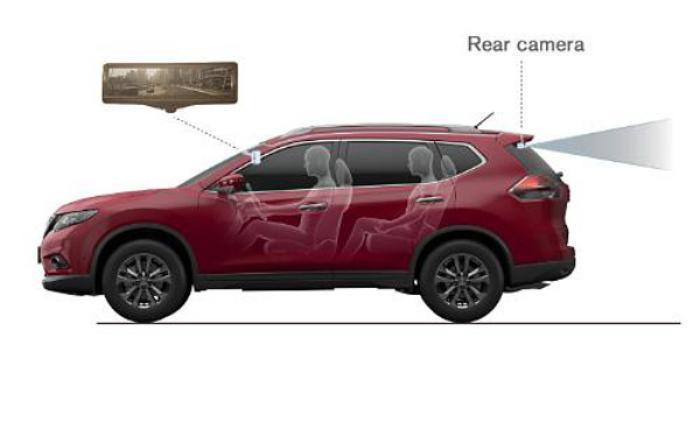 Just last month the U.S. government finally issued a rule that will require new cars and light trucks to have backup cameras with screens in the dash to help prevent accidents in which drivers accidentally back over pedestrians, pets and stray items.
For years many automakers had provided the cameras as an option. Honda recently made then a standard feature.
It's an example of how technology can make a car safer to operate. Nissan is taking that concept a step further, creating what it calls its Smart Rearview Mirror.
Mirror is also an LCD screen
It looks just like a standard rearview mirror but, when the driver throws a switch, the mirror is replaced by an LCD screen that shows the same rear view, minus the heads of backseat passengers or cargo.
The concept was introduced at this week's New York International Auto Show. The video below, produced by Nissan, demonstrates how the mirror screen works.
"Smart Rearview Mirror will give our customers the best possible view no matter how tall the passengers in the back seat or how bad the road conditions," said Andy Palmer, Chief Planning Officer and Executive Vice President of Nissan. "It also offers the possibility of new and exciting designs for our upcoming models, ensuring that appearance no longer has to be compromised for visibility and functionality."
Similar to backup camera
The technology is very similar to the back-up screen system. A high-resolution camera mounted on the rear of the vehicle transmits a clear, unobstructed view of the rear sections of the vehicle.
Gone from the view are the traditional rearview obstructions like the vehicle's C-pillars. Nissan says the camera's image is a wider and clearer view than the one provided by the standard mirror – though the driver still has that option.
A switch function, operated by a control located at the bottom of the mirror, allows the driver to access either the traditional rearview mirror system or the Smart Rearview Mirror.
The system is being installed in vehicles in Japan this spring and in Nissan race cars. However, U.S. drivers will have to wait for the global rollout, expected in 2016.
---