---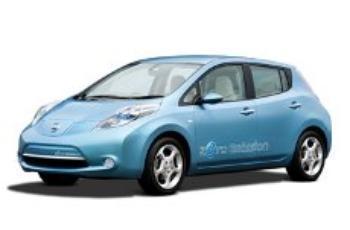 The Nissan Leaf is a nice-looking little car, if you like that kind of thing. And as a plug-in electric, it's relatively simple, compared to a full-blown hybrid. All you have to do is plug it in.
Buyers haven't been exactly electrified by the Leaf although sales have been starting to pick up. About 2,200 were sold in March and now a U.S. factory is starting to turn out Leafs in greater numbers.
Hoping to keep the Leafs from piling up, Nissan is launching an effort to get more public charging stations in place in California, Seattle, Portland, Atlanta and Washington, D.C., where the Leaf is starting to gain a little momentum.
In some of those markets, dealers have been selling as many as 100 Leafs a month, according to Automotive News. In San Francisco, the Leaf has become Nissan's second-biggest seller after the Altima.
Nissan thinks that having more charging stations scattered around those cities would help bump up sales, since the car's maximum range on a good day is 100 miles on a charge. It's not hard to exceed that figure if unexpected errands crop up. Having more spots where a quick charge is available might relieve drivers' angst.
Nissan says it will first try to install the powerful fast chargers at Nissan dealerships, then fan out to high-traffic areas.
The big chargers, which put out 400 to 600 volts, can charge a battery in 30 minutes or less. OK, that's longer than it takes to fill up a gas tank but it's in the ballpark. They can cost $18,000 or more.
Smaller chargers for home use are much less expensive but take hours to fully charge the battery. Most electric-car owners do their charging at night.
---