---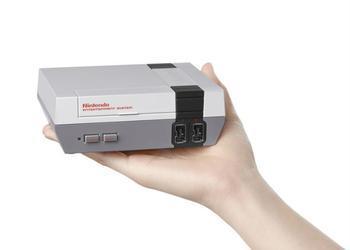 Young children and teens of the 80s and 90s may remember spending many a day balled up on the couch playing classic video games. Whether it was with siblings, friends, or even by yourself, the Nintendo Entertainment System, or NES, was a must-have system.
Now, gamers will have a chance to relive those nostalgic days alongside Mario and Donkey Kong with the release of the NES Classic Edition. This new take on an old system looks like a mini version of the classic console, but it comes prepackaged with 30 classic titles for fans to enjoy.
New and improved
While the new product is based on an old design, some functional updates have been given to the NES Classic Edition to make it more accessible. Consumers will be able to connect the mini-device to their TV's via an HDMI cable instead of the old power cables.
The controllers for the console have also seen a bit of an update. While they look and function like the classic NES controllers, they can also be connected to a Wii Remote for use with Virtual Console games on the Wii and Wii U.
The system also no longer uses cartridges, so fans will no longer have to relive the memories of blowing into the bottom port to get a stubborn game to work; all 30 of the games come pre-downloaded on the device.
Bring on the nostalgia
Nintendo's announcement of the system has been met with enthusiasm by the gaming community, who are chomping at the bit to buy one for themselves. They'll have to wait a little while though – release of the device isn't scheduled until November 11. It will retail for $59.99, with additional controllers available at $9.99 each.
A complete list of the available games follows:
Balloon Fight
Bubble Bobble
Castlevania
Castlevania II: Simon's Quest
Donkey Kong
Donkey Kong Jr.
Double Dragon II: The Revenge
Dr. Mario
Excitebike
Final Fantasy
Galaga
Ghosts 'N Goblins
Gradius
Ice Climber
Kid Icarus
Kirby's Adventure
Mario Bros.
Mega Man 2
Metroid
Ninja Gaiden
Pac-Man
Punch-Out! Featuring Mr. Dream
StarTropics
Super C
Super Mario Bros.
Super Mario Bros. 2
Super Mario Bros. 3
Tecmo Bowl
The Legend of Zelda
Zelda II: The Adventure of Link
---