---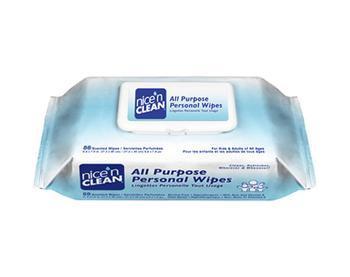 Nice-Pak Products Inc. makes what are called "wet wipes." They're basically an adult version of baby wipes -- moistened toilet tissue. But unlike toilet tissue, which is paper, the wipes can be hard for sewer and septic systems to digest, according to the Federal Trade Commission.
"The evidence didn't back up Nice-Pak's claims that their wipes were safe to flush," said Jessica Rich, Director of the FTC's Bureau of Consumer Protection. "If you claim a product is flushable, it needs to flush in the real world, without clogging household plumbing or sewer and septic systems."
Nice-Pak sells the under the Nice 'N Clean brand. Large retailers, including Costco, CVS, Target and BJ's sell them under their store brands. 
Nice-Pak has agreed to flush the flushability claims from its ads and packaging unless it can scientifically substantiate it, the FTC said today. The company said it has discontinued the products that were causing problems.
"All claims related to our current flushable product portfolio are fully substantiated as safe to flush, and the Consent Agreement does not require any change to our existing products or claims," Nice-Pak said in a statement. "Nice-Pak entered into a voluntary Consent Agreement with the FTC regarding certain wipe products labeled as flushable.  While the products that were the focus of the FTC's inquiry at all times were subject to extensive testing on flushability, we are pleased to bring a resolution to this matter in an amicable manner.  These products have been discontinued since 2014."
Nice-Pak said it "will also continue our leadership position in proactively educating consumers on safe flushable practices, including labeling all of our non-flushable wipes with a prominent 'Do Not Flush' logo." 
The FTC had charged that Nice-Pak misrepresented the flushability of some of its products by claiming that they: 
1) are safe for sewer systems;
2) are safe for septic systems;
3) break apart shortly after being flushed; and
4) are safe to flush.
The company's tests did not reflect real-world household plumbing or septic conditions, the FTC alleged.
Consent order
The proposed administrative consent order settling the FTC charges prohibits Nice-Pak from misrepresenting that any wipe is safe to flush, unless it can substantiate that the wipe will disperse in a "sufficiently short amount of time" after flushing to prevent clogging and/or damage to household plumbing, sewage lines, septic systems, and other standard wastewater treatment equipment.
The test must also replicate the physical conditions of the environment where the wipes will be disposed.
---