---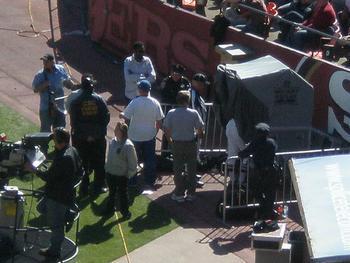 Watching a football game can be very exciting with its punishing tackles and various acrobatics, but that excitement is often punctuated by periods of inactivity and commercial breaks as teams change possession, take timeouts, and officials take extended looks at replays.
NFL Commissioner Roger Goodell is now seeking to address these pace-of-game problems by proposing several changes, according to the Washington Post. The changes could address how video replays are conducted and introduce several clock management tweaks, cutting down on the number of commercial breaks taken and hastening the action.
"I watch a lot of football as a fan and as commissioner. I see when I am watching on TV or at a stadium that there are opportunities to make the game more compelling from a fan standpoint," said Goodell in a statement to the Associated Press.
Changing the pace of games
Under Goodell's proposal, video replays would no longer require a referee to examine a replay under the hood on the sidelines. Instead, the head official would have a tablet brought on the field and they would consult with league headquarters to determine a final call.
This is a big change since final determinations have historically been left up to the head official on the field, but under the new rules the final decision would be made by league officials in New York.
The new rules would also place a time clock on PATs, ensure the game clock is properly restarted after a player has gone out of bounds, and standardize the length of halftimes. Offending teams who aren't ready on time for the third quarter kickoff may even see a 5-yard delay-of-game penalty.
Fewer commercial breaks
Perhaps one of the biggest changes under the proposal would concern the number and length of commercial breaks. Currently, many fans who watch from home are shown commercials after a touchdown and again right after the ensuing kickoff.
Under the rule changes, the number of commercial breaks would be reduced to four per quarter and would last 2 minutes and 20 seconds, up from 1 minute and 50 seconds. Goodell cites league surveys that show fans wouldn't mind the extra 30 seconds if it meant fewer total commercial breaks. However, the proposal states that "natural breaks" that are part of the game would still be included to build drama.
"In most cases, fans won't know the breaks are longer," he said. "I find it unattractive when we see doubling-up on commercials. . . We're addressing interruptions and just trying to move things along."
The proposal will need to be approved by 75% of the 32 team owners at next week's annual meetings for passage of proposals, which will take place in Phoenix. 
Thanks
Keep an eye on your inbox, the lastest consumer news is on it's way!
Unsubscribe easily whenever you want
---