---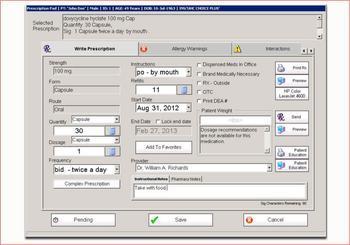 For years, we've heard jokes about doctors' bad handwriting, but communicating prescriptions accurately is no joking matter. That's why New York and Minnesota are requiring that all prescriptions be filed electronically.
Minnesota has had the requirement for awhile. New York's becomes effective March 27 and provides criminal penalties for those who don't comply. Other states are considering similar measures, according to Rx411.
While the requirement should help eliminate errors caused by misreading handwritten prescriptions, it's primarily aimed at cutting down on opioid abuse, a growing problem nationwide.
I-Stop
New York's program, called I-Stop, first went into effect in 2013 and required doctors to check an online prescription monitoring problem before writing prescriptions for controlled substances. That was supposed to help spot abusive patterns in a patient's history.
The second phase of I-Stop requires doctors to write all prescriptions electronically and send them to the pharmacy chosen by the patient. Previously, patients could take paper prescriptions and modify or even copy them and fill prescriptions at multiple pharmacies.
Both healthcare providers and patients should expect problems during the transition period, said Julie Kaplan, a pharmacist and senior medical writer at Rx411.
Doctors may seek to avoid the hassles associated with the tighter regulations and prescribe more traditional regimens instead while patients will need to know in advance which pharmacy they want to use, she said. It will also be more difficult to take the prescription to another pharmacy if their preferred pharmacy is out of stock.
---