---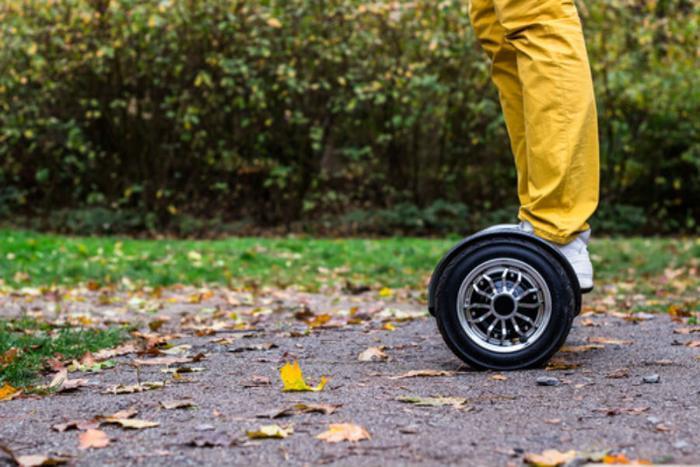 "Hoverboards" have gone through quite the turnaround in popularity since their release last year. While they were the hot gadget to get during the holiday season, reports began trickling in that the devices posed a serious fire hazard due to the ion-lithium batteries getting too hot. This led to a federal probe into the products; meanwhile, Amazon offered refunds for them on its website and they became banned on many leading airlines.
Now it seems that consumers in New York City won't be taking their hoverboards on any buses, subways, or trains any time soon. The Metropolitan Transportation Authority (MTA) made an announcement on Wednesday stating that the products will be banned from public transportation due to fire safety concerns.
The ban affects more than just New York City residents, though – travelers who use trains to go to Long Island or upstate will need to heed the new rule too. "[The] possession of hoverboards aboard trains or buses or at stations of the New York City Subway, New York City buses, Long Island Rail Road, Metro-North Railroad, Staten Island Railway or Access-A-Ride is prohibited," the agency said.
Putting safety first
While the NY MTA ban is noteworthy, it may not have been totally unexpected. The state had previously issued a ban on using the products on sidewalks before the MTA decision was made. Cities like Chicago and Los Angeles had even beaten the agency to the punch by issuing similar edicts of their own, according to Consumerist.
Even the reasoning behind the ban seems pretty solid based on the MTA's long-established safety rules. "The MTA's safety rules have long prohibited the use of personal wheeled vehicles, such as skateboards, skates or scooters, in train stations. The rules of conduct also prohibit customers from possessing hazardous or flammable materials into the public transportation network, and the lithium-ion batteries used to power hoverboards pose the risk of fire," said the agency.
MTA Chief Safety Officer David Mayer was adamant that consumer and employee safety was a top priority. "For obvious reasons, it is not safe to use hoverboards, skateboards or other personal wheeled vehicles on station platforms. We're equally concerned about the safety risk of bringing devices that pose fire hazards into the confined spaces inside trains and buses," he said. 
---