---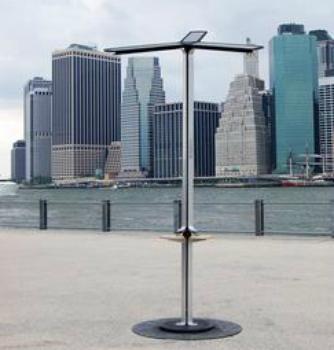 In less than five years time, smart phones have become a critical part of modern life. That point was driven home last fall when Hurricane Sandy slammed into the northeast corridor, knocking out power to wide areas of the New York City metro.
The result was communication chaos. Millions of people now have no wired telephone account, relying solely on their cell phones for contact with family, friends and work.
The cell phone providers quickly restored power to their networks through emergency generators, but it turned out to be of little use to customers after a day or two. With no electricity, smart phone batteries quickly ran down. Sandy, it seems, exposed the Achilles heel of wireless communication in a blackout.
Now, less than a year after the storm, New York City and AT&T are embarking on an ambitious program to provide free cell phone charging stations around the city. They will be there in an emergency, or when you are on the go and discover your phone's battery needs a charge.
Street Charge
AT&T calls the pilot project "Street Charge" and is basing it on the temporary charging stations it set up in Sandy's aftermath. But instead of the generators it brought in to provide power, these new permanent charging stations will be powered by solar energy.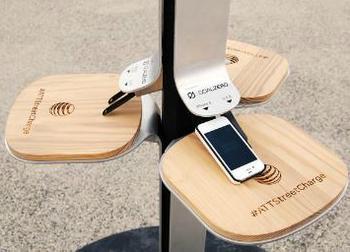 Before the end of the summer AT&T expects to deploy some 25 charging stations across the city's five boroughs. There are two solar mobile charging units now live at Fort Greene Park. Charging stations will next come online at Brooklyn Bridge Park's Pier I, Governor's Island, and Pier 1 at Riverside Park and Union Square Park.
"Thanks to AT&T, more New Yorkers will have improved connectivity and access to the wireless technology that has become such an important part of our daily lives," said Mayor Michael R. Bloomberg. "After Hurricane Sandy, I asked our private sector partners to step up and help improve the resiliency of New York City. AT&T is doing just that, and we're grateful for their efforts."
Where to find charging stations
Once the project is complete, charging stations for cell phones and tablets will be available in these locations:
Manhattan:
Riverside Park, Pier I

Union Square Park, North Plaza

Rumsey Playfield, Central Park Summerstage

Hudson River Park Pier 59

Randall's Island
Brooklyn:
Brooklyn Bridge Park, Pier I

Fort Greene Park

Coney Island

Metrotech Plaza

The Dumbo Arts Festival

The Brooklyn Book Festival
Queens:
Rockaway Beach

Clearview Golf Course

Socrates Sculpture Park
Bronx:
Orchard Beach

Staten Island:

Governor's Island

La Tourette Golf Course

Staten Island Zoo
Keeping a smart phone charged is a bigger issue than with the previous generation of cell phones. Accessing data and running apps provides a much faster battery drain than simple voice communication.
What to do
A number of manufacturers are at work to find ways to extend battery life, or produce smart phone batteries that will hold a charge longer. In the meantime, there are a few things you can do to go longer between charges.
The first is obvious – turn off the phone when you are asleep or in an area where there is weak or no cell signal. If the phone is constantly searching for a signal, it can quickly drain the battery.
When you are in a meeting and don't want to be disturbed, turn the phone off instead of switching to "vibrate." The vibrate mode uses extra power.
Turn down the brightness. Yes, you need to be able to see the screen when you are outside in the sunlight but the backlight feature on smart phones is an energy hog.
Don't let the battery drain completely. The lithium-based batteries in mobile devices are designed to operate best when they don't run all the way down. Charge it up whenever you have the chance.
---