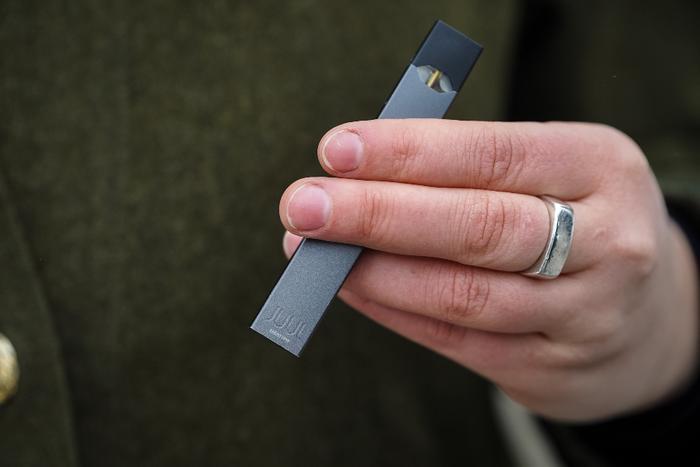 New York is following the lead of other states, counties, and school districts in suing Juul for allegedly marketing to teenagers through the use of a "deceptive and illegal" campaign. 
The state's Attorney General, Letitia James, announced the lawsuit on Tuesday and said she has no doubt that the company's actions caused minors to become addicted to its products. In the complaint, James accuses Juul of marketing directly to teens by advertising its fruit flavored products on social media and downplaying the fact that the products contain nicotine. 
"Juul is putting countless New Yorkers at risk and compromising the health of millions of young people," James said at a press conference. "There is no doubt that Juul ... has caused this addiction."
Rise in teen vaping
Lawmakers have previously said they believe e-cigarette manufacturers like Juul must be held accountable for their role in creating and fueling the youth vaping epidemic. 
Meanwhile, Juul has said it's just as concerned as regulators that its products are falling into the hands of underage users instead of its target demographic, "the world's 1 billion adult smokers." James claims in the lawsuit that Juul "took a page from Big Tobacco's playbook" when it allowed young consumers to purchase its products.
"JUUL's advertising and social media posts misled consumers about the content of its products by failing to warn that they contain nicotine, a highly addictive chemical that is particularly dangerous for adolescents," the complaint alleges.
Similar lawsuits
Earlier this week, California filed a similar lawsuit against Juul. The state's Attorney General, Xavier Becerra, accused the e-cigarette maker of targeting minors through its marketing tactics and product design. 
The suit also accuses the company of using a "flawed" age-verification process for online sales and failing to properly warn consumers of the fact that they would be exposed to chemicals associated with cancer and birth defects.
"We've worked too hard, committed our hard-earned money for too long combatting harmful tobacco use to stand idly by as we now lose Californians to vaping and nicotine addiction," Becerra said in a statement.
In May, North Carolina also filed a lawsuit against Juul, accusing the company of employing "deceptive and unfair" marketing practices to drive sales to minors.
In an effort to appease regulators and minimize its appeal to youth users, Juul recently stopped sales of fruit and mint-flavored vape products and suspended all broadcast, print, and digital product advertising in the U.S. 
Juul says it's committed to "earning the trust of society by working cooperatively with attorneys general, regulators, public health officials, and other stakeholders to combat underage use and convert adult smokers from combustible cigarettes."