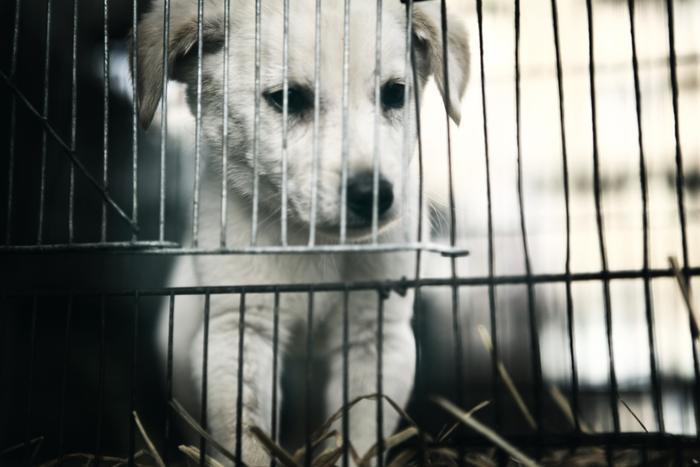 The New York state legislature will consider a measure banning the sale of dogs, cats, and other animals at pet stores within the state.
Assemblymember Linda B. Rosenthal, who sponsored the bill, said the measure is aimed at ending what she called the "puppy mill to pet store pipeline."
"Unsuspecting customers pay hundreds of dollars for a cute puppy or kitten, only to find that the animal is incurably sick," Rosenthal said. "Our animal shelters and rescue organizations are overflowing with animals needing forever homes; it's time we start connecting rescue animals with loving homes through adoption in pet stores."
The American Society for the Prevention of Cruelty to Animals (ASPCA) says many breeding operations overproduce dogs, targeting consumers who desire a "pure breed" pet. But the group says unhealthy conditions in the mills, combined with genetic weaknesses, often produce offspring with a very short lifespan.
Previous measure
New York has had puppy mills in its sights for some time. In 2017, a federal appeals court upheld a New York City statute intended to curb puppy mills. That ordinance requires that pet shops only sell dogs and cats from Class-A-licensed breeders who have not had their licenses suspended in the last five years.
The Assembly bill takes it a step farther and extends the prohibition throughout the state. Bill Ketzer, senior director of state legislation for the ASPCA, Northeast region, says the legislation may be the only way to end pet over-breeding within the state.
"Time after time, the pet industry has demonstrated that it is not interested in ensuring the welfare of the dogs it churns out, nor is it interested in transparency or public accountability," Ketzer said. "These badly regulated commercial dog breeders have only one goal: breed the highest volume of puppies possible at the lowest cost for the retailer."
Ketzer says there have been cases where pet stores look the other way and exclude well-documented health and behavior risks in their pitch to buyers, who believe they are going home with a healthy, well-bred puppy.
The Humane Society of the United States has also thrown its support behind the measure. Brian Shapiro, New York state director for the group, says it's up to states to take action because "federal regulators fail to provide proper oversight of large-scale pet breeders."