---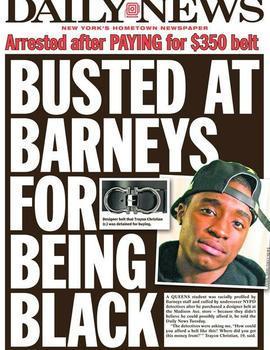 There's a game of legal hot potato going on right now between the New York Police Department and luxury retailers Macy's and Barneys New York, each side blaming the other for recent cases of "shop and frisk," wherein black shoppers who legally purchased various expensive goods were nonetheless arrested or detained on suspicion of stealing them or using a stolen credit card.
Earlier this week we told you the story of Trayon Christian, a 19-year-old college student arrested on suspicion of stealing the debit card he used to buy an expensive designer belt from Barneys.
Christian claims an unnamed detective from the NYPD said Barneys called to report Christian as a suspected thief; Barneys counter-claimed that the NYPD chose to arrest Christian on its own initiative, with no input from any Barneys staffers. 
Barneys made similar protests of innocence the next day regarding the case of 21-year-old Kayla Phillips, harassed by plainclothes police after buying an expensive luxury handbag from Barneys.
Unfortunately, such stories have become common enough that New York's attorney general's office announced on Tuesday that it was launching an investigation into Barneys' and Macy's security practices.
An extreme experience
After news of Christian's false arrest broke, Macy's collected some unwanted publicity from actor Rob Brown, star of the Treme series on HBO. 
Brown (who said reading about Christian inspired him to come forth with his own story) tried to buy his mother a $1,350 watch at Macy's last June, and claims he was detained for an hour after a store clerk accused him of buying the watch with a fake card.
Once again, the store and the NYPD blamed each other: a Macy's spokeswoman said Brown's detainment was "an operation of the New York City Police Department," whereas an NYPD spokesman countered that officers only acted after getting a tip from Macy's staffers. 
Regardless of who is to blame for the harassment of Rob Brown, it's an indisputable fact that in 2005, Macy's paid $600,000 to settle similar claims of racial harassment -- specifically, that black and Latino shoppers in its New York stores were racially profiled and suspected of theft.
Nor is there any dispute that Trayon Christian spent time in a police holding cell after being accused of stealing his own rightfully obtained debit card. And it does seem more than coincidental, the way so many innocent New Yorkers detained for not-shoplifting an expensive item also turn out to be not-white.
---