---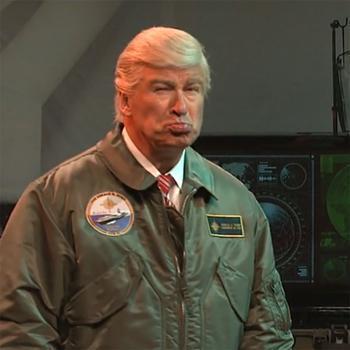 You could throw most writers into the sea and no one would much care, but what if all the TV writers went on strike? Who would fill the nightly airwaves with crude skits mocking the Trump Administration?
For many despondent Democrats, the nightly comedy shows are the only ray of sunshine in what is otherwise a gloomy landscape. Having them go dark would be a "nuclear option" that puts today's Senate action over Supreme Court nominee Gorsuch to shame.
It could happen though. 
The Writers Guild of America says it will strike beginning May 2 if it is unable to reach a new deal with the Alliance of Motion Picture and Television Producers. The guild sent a letter to media buyers on Tuesday, according to a report in TheWrap.
"In the event that we are unable to negotiate a new contract ... a work stoppage will begin May 2," the Guild said in a letter to the AMPTP. "Should this occur, writing for television, feature films and digital series will cease."
Yes, even SNL
You might not notice any effect from a stoppage on feature films and TV series, since they are shot well in advance of public release. But the Guild warned that "late night shows like 'Tonight Show Starring Jimmy Fallon,' 'The Daily Show,' 'Jimmy Kimmel Live,' 'Saturday Night Live,' 'Full Frontal With Samantha Bee, The Late Show With Stephen Colbert' and others will go off the air."
That's right -- off the air. Jimmy Kimmel may be funny, but he's not funny enough to do an entire show without writers and wouldn't be allowed to do so under union rules anyway.
Antidepressant manufacturers might benefit, but it's hard to see any upside for the rest of the economy, as roughly half the country would be expected to become listless, irritable, and prone to sleep disturbance and headaches. 
The writers are looking for raises that would cost the entertainment industry about $178 million annually. It's not an idle threat. The last time the writers struck, back in November 2007, they stayed out for 100 days, shutting down live shows and knocking the 2007 fall season for a loop, since new shows weren't ready to go on time. It could happen again. Stay tuned.
Thanks
Keep an eye on your inbox, the lastest consumer news is on it's way!
Unsubscribe easily whenever you want
---