---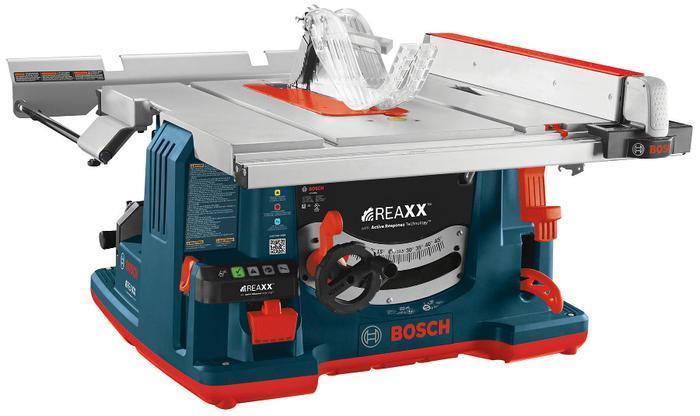 Table saws are involved in more than 60,000 accidents every year in the United States alone – or one accident every nine minutes – according to the U.S. Consumer Product Safety Commission. Those accidents result in nearly $2 billion of injury-related costs annually. It's pretty safe to say they can be dangerous.
Bosch has created a table saw that can tell the difference between a piece of wood and a finger, and drop the blade out of the way to prevent a messy accident. It's called the Reaxx portable jobsite table saw.
Table saws that can tell if you are a finger or a piece of wood isn't something that's really that new. In 2007 an Oregon company invented a table saw called Sawstop that immediately retracts the blade when it touches a finger. As the blade's teeth sink into the brake, the momentum forces the blade to drop below the table. The entire process takes only three milliseconds, which is a fraction of the time it takes to blink your eye.
The blade, though, is ruined at the point that the brake stops. Which means you have to have another blade on hand before you can start working again and catch your breath. Unlike SawStop, the Reaxx doesn't break the blade. Instead, a piston release drops the blade and pushes it out of the way before it can cause serious injury.
According to Bosch, the advantage of the Reaxx table saw is not only that it prevents accidents, but that it can be easily reset in under a minute. To resume work you just reset a cartridge.
Injury mitigation
There are other safety features on the Bosch saw that can prevent someone from just turning off the safety. It has an LED light panel that will display the saw's status. It can shut off and lock in place if the conditions aren't right for working safely.
"We've engineered the Bosch REAXX Portable Jobsite Table Saw to offer users the best injury mitigation system available in the power tool industry," said Craig Wilson, product manager, Robert Bosch Tool Corporation.
Of course what new high tech device wouldn't come equipped with an app that you can use with your phone? The Reaxx comes with an NFC-enabled phone app to allow supervisors to monitor the saw's status, lock the saw, and to authorize which workers can work the bypass.
The Bosch REAXX Jobsite Table Saw will be available fall 2015 for $1,499.
---
SawStop responds:
I would appreciate it if you noted this correction: SawStop technology was invented in 1999, not 2007 as mentioned in your story. Since that time, we have become North America's #1 cabinet saw. We have shipped 70,000 saws, and documented thousands of finger saves. This year, we debuted a portable Jobsite Saw that incorporates the proven SawStop safety system and many other feature innovations never before seen on a portable saw. See it here at www.sawstop.com/jobsite.
Also, you mention that SawStop technology reacts in 3 milliseconds. I am unaware of a time for the other system mentioned in your story
Matt Howard
Vice President/ Marketing
SawStop, LLC
---