---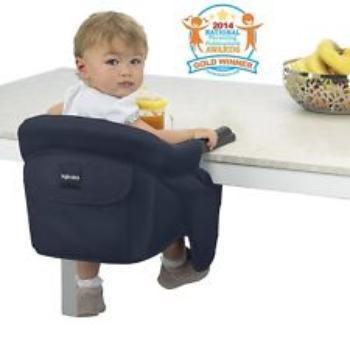 Hook-on baby chairs should be getting a little safer. The popular legless chairs are latched onto a table to provide seating for infants and toddlers, but have been implicated in about 90 safety mishaps in recent years, including one death.
A new standard is being applied to chairs intended for use by children who are between the ages of 6 months and 3 years and who weigh less than 37 pounds. 
It was adopted as a voluntary industry standard by ASTM International, an industry group, and has now been made mandatory by the U.S. Consumer Product Safety Commission (CPSC).
Common hazards
The new safety standard addresses hazards associated with portable hook-on chairs, including:
compromised attachment;
restraint or containment issues;
unintended release of seat fabric fastenings;
seat fabric separation due to breaking or tearing components; and
broken structural components.
It's one of a number of new safety standards for infant and toddler products adopted in recent years under the Danny Keysar Child Product Safety Notification Act, passed by Congress in 2008. It requires the CPSC to issue consumer product safety standards for durable infant or toddler products.
In the past six years, the Commission has approved new federal safety standards for durable infant or toddler products, including full-size cribs, non-full-size cribs, play yards, baby walkers, baby bath seats, children's portable bed rails, strollers, toddler beds, infant swings, handheld infant carriers, soft infant carriers, framed infant carriers, bassinets, and cradles.
---