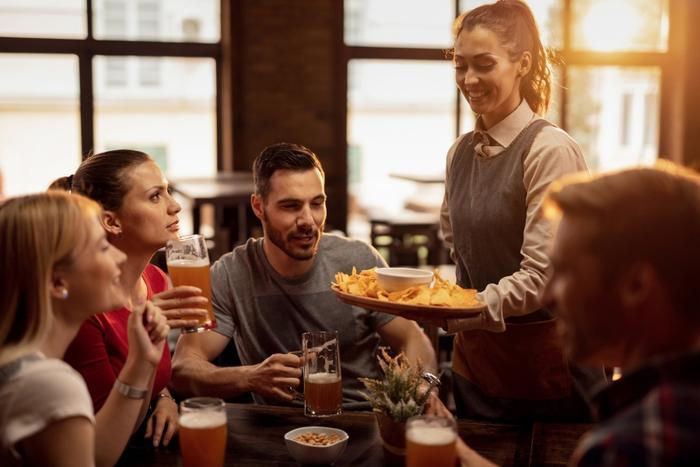 When things started looking good in late Spring for Americans to return to something resembling their pre-COVID normal, one of the first things on many of our checklists was to eat out. Things have changed again, however. A new report by foot traffic analytics firm Placer.ai finds that while many of those chains saw a sizzling summer in terms of foot traffic, the pendulum is starting to swing the other way.
Placer.ai's analytics show that the dining sector nationwide had a difficult August. "By mid-August, rising COVID cases were already thwarting the budding dining recovery, with nationwide dining visits down -2.1%, -8.0%, -3.4%, and -6.1% for the weeks beginning August 16, August 23, August 30, and September 6, respectively," the report says. 
Booming biz for Darden-owned restaurants
For one of the nation's biggest chains — Darden Restaurants, home to Olive Garden, LongHorn Steakhouse, Eddie V's Prime Seafood, The Capital Grille, Seasons 52, Bahama Breeze, Yard House, and Cheddar's Scratch Kitchen — their reopening business boomed. 
As diners opted to treat themselves to a nice night out after being cooped up for more than a year, Darden was ready. The report said Darden's three upscale chains are also above pre-pandemic visit heights. The Capital Grille is in the best shape, with visits up nearly 15% during August compared to 2019. At Eddie V's, they were up almost 12%, and Seasons 52 was up 1.4%.
A Placer.ai spokesperson told ConsumerAffairs that the negative metrics for Darden's other concept chains was "a tough concept to grasp," noting that while Bahama Breeze saw foot traffic up 4.2% in August compared to the same month in pre-pandemic 2019, visits were still down 9.5% at Yard House and 10.2% at Cheddar's. 
Steak, yes; Italian, no?
Placer.ai's data shows that Darden's two largest brands, Olive Garden and LongHorn Steakhouse, are on seemingly different trajectories, but both are still in a better position now than they were earlier this year. 
LongHorn Steakhouse has been having an impressive spring and summer, with visits up 19.9%, 34.1%, and 17.1% in June, July, and August, respectively, when compared to the same months in 2019. Meanwhile, Olive Garden, which had been gradually closing the visit gap and even reached year-over-two-year visit growth in July, dropped back down to a -5.3% visit gap in August. 
Darden's CEO says the pundits have it all wrong
Darden chief and chairmen Gene Lee strongly defended Olive Garden, explaining why the chain isn't keeping pace with its casual dining peers. Speaking to trade publication FSR Magazine, Lee said the decline is due to the brand not "participating in giving away our food through third-party channels." Lee said that Olive Garden isn't discounting its cash like others by selling gift cards.
He claims that the bottom line is, well, the bottom line — and that Olive Garden's is very healthy. "In the fourth quarter (2020), we put up 25 percent restaurant-level margins. Isn't our job to try to drive profitable sales growth? And that's what we're focused on. And so there are a lot of reasons why we're not keeping up with where some of the other people are going. There's a lot that's changed in two years and how they're handling their businesses. Some of them have virtual brands and all this other stuff that's out there."