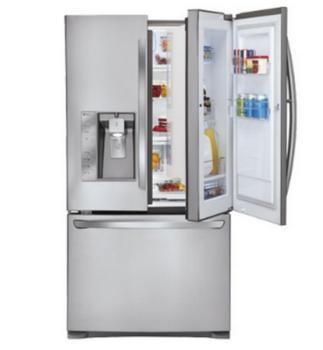 Making a refrigerator that just keeps food cold is no longer enough. Manufacturers have upped the ante in recent years, adding bells and whistles and sleek, modern styling.
The French door design, with twin doors up top, opening to ample refrigerator storage, and a bottom freezer drawer has proved popular with kitchen designers and remodelers.
Manufacturers, however, continue to tinker with the French door design. LG, for example, produces a door-in-door refrigerator. One of the refrigerator doors is actually two doors. The first opens to reveal a tall, narrow compartment suitable for storing soft drinks, condiments and other things removed from the refrigerator on a regular basis. Models start at around $3,500. 
Energy efficient
It's not only convenient, LG says, but also energy efficient. Because of the door-in-door feature, less cool air escapes when the easy-access compartment is opened, keeping cold air in the rest of the fresh food compartment.
"Since its introduction, the door-in-door design has become incredibly popular among busy families from coast to coast," said David VanderWaal, director of home appliance brand marketing, LG Electronics USA. "We understand that every household is different, and what works for one family may not for another. Expanding the lineup means more families have access to this innovative convenience feature, whether their main need is more space, additional freezer organization or a larger ice supply."
LG has just released three new styles of the door-in-door model: a mega-capacity model, a 4-door model with double freezer drawers and a model with dual ice makers.
Samsung version
Samsung produces its own version of the four-door refrigerator in the French door design. Earlier this year it rolled out a 31 cubic foot model, featuring a sparkling water dispenser made by SodaStream, retailing for about $3,900. 
Instead of a door inside the door, Samsung's fridge provides a refrigerated drawer between the freezer drawer and the top refrigerator compartment. Inside the middle drawer there is an adjustable smart divider that creates four flexible-size compartments, each with its own customizable temperature setting.
The main compartment features Twin Cooling Plus, a system that keeps the air inside the refrigerator at higher, near-commercial grade humidity levels to keep perishable fruits and vegetables fresher longer.
But the company obviously sees the main selling point to be the in-door sparkling water dispenser. Consumers can select up to three levels of carbonation for their sparkling water
"The Samsung Four Door Refrigerator with a sparkling water dispenser reflects Samsung's strong commitment to offering home appliances that not only meet consumers' needs, but anticipate them in ways they never thought possible," said Kevin Dexter, senior vice president of home appliances sales and marketing, Samsung Electronics America.
GE's offering
GE's French door refrigerator also features four doors, but its fourth door provides extra freezer space, not another refrigerator compartment. According to the company, having two freezers – a large one and a small one – makes it easier to organize frozen foods and find exactly what you're looking for.
Other features include an in-door icemaker, a tall, external ice and water dispenser with temperature display and ramp-up LED lighting – meaning the lighting increases as the doors are opened until there is full illumination.
The refrigerators are part of GE's Profile series and come in 20.7 and 24.8 capacities. Prices start at around $3,000.