---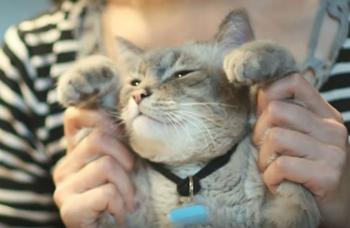 Maintaining a healthy weight is important for humans and pets alike. For help maintaining a healthy lifestyle, many people turn to wearable activity trackers. Now, pet owners can find a wearable tech solution to help their pets stay fit.
Poof recently announced the launch of its line of activity trackers for pets. The impossibly small devices, which attach to your dog or cat's collar, are capable of logging calories burned and keeping tabs on the quality of your pet's sleep.
Poof's Bean and Pea trackers -- the size of a pill and a quarter, respectively -- communicate with an app, on which owners can see and track their pet's activity level. Owners can also find feeding recommendations and see how their pet's activity level compares to other pets on the app.
Smallest pet trackers
The tiny fitness trackers for pets aren't the first to hit the market. FitBark and PitPat are among other devices that also aim to help pet owners monitor their pet's activity level. But Poof's size and battery life may give it an edge over the competition.
In addition to being lightweight (0.1 oz, to be exact), the colorful trackers have long-lasting rechargeable batteries. The Pea's battery lasts up to six months, while the Bean's lasts up to two months.
Larry Kaufman, VP of Sales and Partner Relations for Poof, says the fact that Poof raised $67,000 on Indiegogo earlier this year speaks volumes. "The overwhelmingly positive reaction from backers on Indiegogo serves as confirmation that we've created something that will make a big difference in the lives of pet owners and their pets," he said.
Tracks sleep quality
Poof's ability to track sleep may help pet owners sniff out a potentially serious health problem. You might just see a snoozing schnauzer, but your pet's sleep habits can be an indicator of a health problem.
Abnormally long sleep patterns, Kaufman notes, may be a sign that something's not quite right. The trackers can "give pet owners the peace of mind they deserve when it comes to the whereabouts, activity levels and overall health of their furry friends," he said.
All proceeds from sales of Poof's Bean ($49.99) and Pea ($39.99) trackers will go to GreaterGood, a nonprofit organization that supports animal shelters and rescue groups around the world.
Thanks
Keep an eye on your inbox, the lastest consumer news is on it's way!
Unsubscribe easily whenever you want
---