---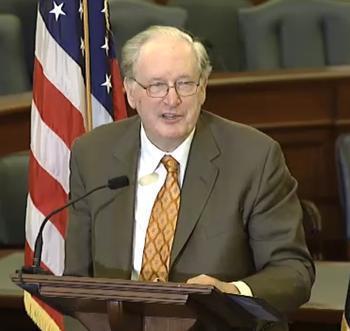 Starting today, children have more privacy protection on the Internet. That's because a new Federal Trade Commission rule goes into effect that's intended to put parents in charge of their children's online activities.
Sen. Jay Rockefeller (D-W.Va.) previewed the new rules last December, saying that he wanted to give a "very hard time" to companies that "make their living off of grinding out through various technological tricks private information about kids 12 and under."
The Children's Online Privacy Protection Act (COPPA) has been beefed up under direction from Congress. It expands coverage to include mobile devices and social networks and also widens the definition of personal information to include cookies and other identifiers that track a child's activity online.
The rule also covers geolocation information, photos, videos and audio recordings. For purposes of the rule, a child is anyone 13 or younger.
"No-brainer"
"To me this is such a no-brainer, it's an absolute priority. Children's privacy is an absolute top-line issue for me. I'm going to do every single thing I possibly can to make [COPPA] strong, stronger and yet stronger," said Rockefeller, Chairman of the Senate Commerce, Science and Transportation Committee.
"At the FTC, protecting children's privacy is a top priority," said FTC Chairwoman Edith Ramirez. "The updated COPPA rule helps put parents in charge of their children's personal information as it keeps pace with changing technologies."
COPPA requires website and online operators that collect information about children under 13 to get parental permission before collecting, using or disclosing the information.
Getting everyone on board with the program is likely to be a challenge. The FTC has set up something called "safe harbor" programs, under which trade groups create self-compliance programs for their members.
COPPA safe harbor programs are offered by Aristotle International, Inc., the Children's Advertising Review Unit of the Council of Better Business Bureaus, ESRB Privacy Online, TRUSTe, and Privo, Inc.
The FTC has also released two new pieces designed to help small businesses that operate child-directed websites, mobile applications and plug-ins ensure they are compliant with upcoming changes to the rule.
The first is a document, "The Children's Online Privacy Protection Rule: A Six-Step Compliance Plan for Your Business, which is designed especially for small businesses and contains a step-by-step process for companies to determine if they are covered by COPPA, and what steps they are required to take to protect children's privacy.
Finally, the FTC has updated a guide for parents, "Protecting Your Child's Privacy Online," that explains what COPPA is, how it works and what parents can do to help protect their children's privacy online.
---