---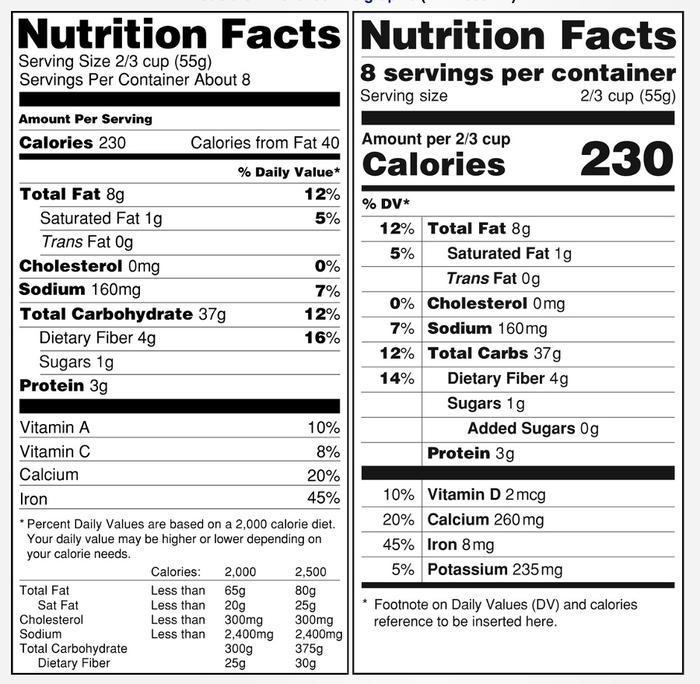 The U.S. Food and Drug Administration (FDA) has come up with a proposed new "Nutrition Facts" label for packaged foods, hoping to emphasize the link between diet and chronic diseases such as obesity and heart disease.
The proposed new label (on the right in the above graphic) would also update serving size requirements to better reflect align with how much people really eat, and it features a fresh design to highlight key parts of the label such as calories and serving sizes.
"Our guiding principle here is very simple: that you as a parent and a consumer should be able to walk into your local grocery store, pick up an item off the shelf, and be able to tell whether it's good for your family," said First Lady Michelle Obama, who has also crusaded for revised marketing guidelines for processed foods. "So this is a big deal, and it's going to make a big difference for families all across this country."
Story continues below video
"For 20 years consumers have come to rely on the iconic nutrition label to help them make healthier food choices," said FDA Commissioner Margaret A. Hamburg, M.D. "To remain relevant, the FDA's newly proposed Nutrition Facts label incorporates the latest in nutrition science as more has been learned about the connection between what we eat and the development of serious chronic diseases impacting millions of Americans."
Critics respond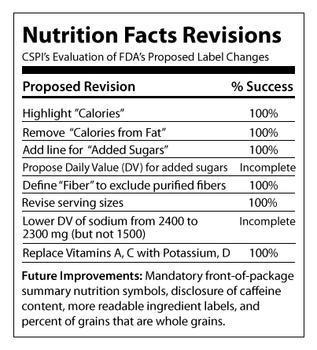 The proposed changes got mostly high marks from the nonprofit Center for Science in the Public Interest, a frequent critic of the FDA. CSPI especially welcomed the proposed new emphasis on calories, revision of certain foods' serving sizes, and new line for added sugars. But the group says the agency should revise its proposal to include a Daily Value for added sugars and to further lower the Daily Value for sodium to 1,500 milligrams.
"Nutrition Facts labels have helped millions of Americans select healthier diets and have spurred food companies to compete more on the basis of nutrition," said CSPI executive director Michael F. Jacobson. "But industry practices and understanding about nutrition have changed since the labels first appeared on packages 20 years ago. While the FDA is off to a strong start, the agency must do more to ensure that these labels communicate better advice on sugar and salt."
"This is good news for consumers," said Chris Waldrop, director of the Food Policy Institute at Consumer Federation of America. "Updating the Nutrition Facts Panel will provide consumers with more relevant and useful information about the foods they consume."
The changes are expected to cost the food industry about $2 billion but the Grocery Manufacturers Association was relatively muted in its response, calling the proposal a "thoughtful review."
GMA President Pamela Bailey said it was important to ensure the labels "ultimately serve to inform, and not confuse, consumers."
Major changes
Some of the changes to the label the FDA proposed today would:
Require information about the amount of "added sugars" in a food product. Update serving size requirements to reflect the amounts people currently eat. Present "dual column" labels to indicate both "per serving" and "per package" calorie and nutrition information for larger packages that could be consumed in one sitting or multiple sittings.

Require the declaration of potassium and vitamin D, nutrients that some in the U.S. population are not getting enough of, which puts them at higher risk for chronic disease.

Revise the Daily Values for a variety of nutrients such as sodium, dietary fiber and Vitamin D.

While continuing to require "Total Fat," "Saturated Fat," and "Trans Fat" on the label, "Calories from Fat" would be removed because research shows the type of fat is more important than the amount.

Refresh the format to emphasize certain elements, such as calories, serving sizes and Percent Daily Value, which are important in addressing current public health problems like obesity and heart disease.
"By revamping the Nutrition Facts label, FDA wants to make it easier than ever for consumers to make better informed food choices that will support a healthy diet." said Michael R. Taylor, the FDA's deputy commissioner for foods and veterinary medicine. "To help address obesity, one of the most important public health problems facing our country, the proposed label would drive attention to calories and serving sizes."
---