---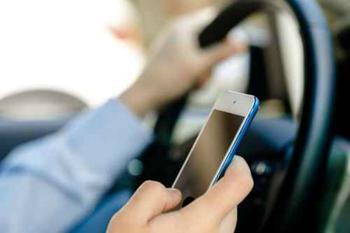 Distracted driving has become an epidemic, and, quite often, smartphones are to blame. A 2015 report by the National Safety Council (NSC) found that cell phone related activities accounted for 27% of all car crashes.
An even more recent report finds that you and your passengers are likely in close proximity to a distracted driver at any given moment. Video footage by SR22Agency.com captured 187 distracted drivers in just 20 minutes; 10 distracted drivers per minute on just one busy U.S. intersection.
Eighty one percent of drivers were distracted because they were talking on their cell phone. The second most popular form of distraction? Texting.
Now, a new legislation is aiming to hold drivers accountable for distracted driving due to mobile devices. Based on the concept of the Breathalyzer, a device called the "Textalyzer" is being developed to help authorities determine whether a driver involved in a crash was using their cell phone.
Driver accountability
According to Deborah Becker, co-founder of Distracted Operators Risk Casualties (DORCs), holding drivers accountable for their behavior behind the wheel can help prevent distracted driving. Drunk driving is down, says Becker, which makes mobile devices the most likely reason for this sudden spike in car crashes.
"When people were held accountable for drunk driving, that's when positive change occurred. It's time to recognize that distracted driving is a similar impairment, and should be dealt with in a similar fashion. This is a way to address people who are causing damage," said Lieberman, in a statement.
The proposed legislation -- called "Evan's Law," in memory of the DORC's co-founder Ben Lieberman's 19-year-old son, who died in 2011 as a result of a distracted driver -- would have drivers submit their phone to roadside testing from a textalyzer.
Lieberman says meticulous steps are being taken to ensure that a driver's personal information remains protected. The technology will not provide access to any content on a driver's phone. Instead, the textalyzer will simply help authorities determine whether the device was being used around the time of the crash. The new technology is being developed by Cellebrite.
---