---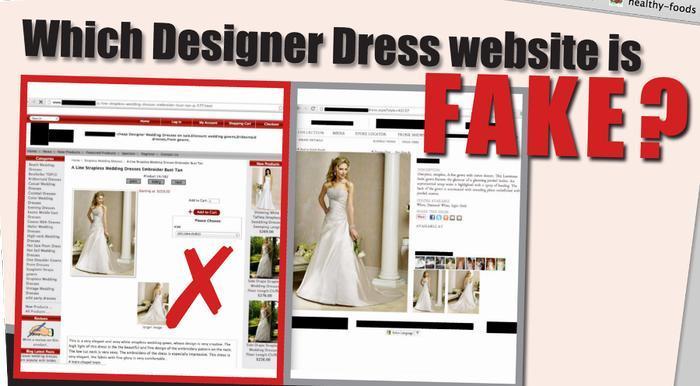 One of the many potential problems with online or mail-order shopping is that, obviously, you can't personally inspect the quality of an item before you buy it; you must hope that the seller is honest, and not misrepresenting whatever is for sale.
That's one of the reasons sellers of shoddy and/or counterfeit goods find it easier to peddle their wares online than in brick-and-mortar stores. Another reason is that, from the perspective of a criminal hoping not to get caught, operating a hard-to-trace website, possibly from overseas, is much safer than working from a well-known, fixed location within U.S. jurisdiction.
Consider: this week, the New Jersey attorney general's office and Division of Consumer Affairs put out a press release warning consumers (specifically, brides-to-be) to "beware of websites offering poor-quality counterfeit dresses."
No doubt, the attorney general would much prefer to announce "We've arrested and shut down all these counterfeit sellers; no need for consumers to worry." Unfortunately, that isn't possible, so giving consuemrs the tools necessary to recognize a scam is doubly important.
When shopping for a wedding gown, consumers should be aware that what you see online may not even be close to what you get. With the arrival of the fall wedding season, the New Jersey Division of Consumer Affairs today reminds consumers to beware of websites that appear to offer genuine designer wedding dresses at low prices – but actually deliver poorly made counterfeits.

Last year, U.S. buyers purchased approximately 600,000 to 700,000 counterfeit dresses from overseas retailers who advertised them online, according [to] industry sources. Online consumer complaints reveal that a significant number of consumers were severely disappointed with dresses that did not match their online photos and descriptions, but instead were made with inferior fabric and sub-par workmanship.
Of course, the problem of counterfeit online merchandise isn't remotely limited to wedding gowns.
Ugg counterfeits
Last November, for example, we shared the story of a reader who found a website claiming to offer Ugg boots (and nothing but Ugg boots) for only half the regular retail price. Unsurprisingly, what she actually received was a pair of poorly made, counterfeit Ugg boots that weren't even the size or color she'd ordered.
The day after our story ran, the website went down, replaced by a legal notice saying that since it sold counterfeit Ugg products, Ugg's lawyers got a temporary court order transferring the domain name to them. Which might sound like a pro-consumer victory, except the website's actual operators were never caught or even identified, and probably opened a new website selling counterfeit Uggs within five minutes of Ugg's attorneys shutting down their previous one.
And in the near future, when the attorney general of New Jersey or some other state inevitably announces the arrest and prosecution (or at least shutdown) of various scammers in their jurisdiction, more scammers will arise to take their place. So you, as a savvy consumer, must always be on guard against these scams — and remember that when a bargain seems to good to be true, that's almost always because it is.
---