---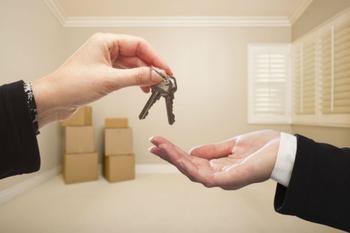 Sales of new single-family houses have made up for their March decline -- and then some.
The Commerce Department reports that sales shot up 16.6% in April to a seasonally adjusted annual rate of 619,000. That's the highest level since January 2008 and 23.8% higher than they were a year ago. The increase was the sharpest since January 1992.
The advance came, according to Stifel Fixed Income Chief Economist Lindsey Piegza, on "continued positive gains in employment, low energy costs, favorable lending conditions, and a relatively stable confidence level, housing activity accelerated in April."
Despite earlier signs of stagnant momentum, she said, "the spring selling season appears to be kicking off with a more than decent level of consumer activity."
Pricing and inventory
The median sales price of new houses was a record $321,100 -- up $28,400 from a year earlier, while the average sales price rose $45,100 to $379,800. The median is the point at which half the house sold for more and half for less.
The seasonally adjusted estimate of new houses for sale at the end of April was 243,000, representing a supply of 4.7 months at the current sales rate.
Sales by region
It was a good month for new-home sales in the Northeast, where they soared 323.1% from March and posted a year-over-year gain of 52.8%.
Sales in the West jumped 18.8% from the previous month and were up 23.6% from the same month last year.
In the South, sales enjoyed a monthly advance of 15.8% and rose 18.1% from April 2015.
The only decline came in the Midwest, where sales were down 4.8% from a month earlier and 9.1% from a year ago.
The complete report is available on the Commerce Department website.
---