---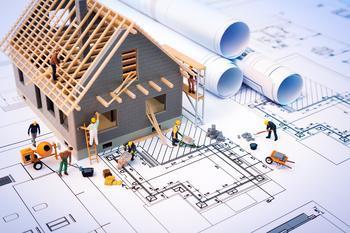 The building of new homes took a hit in March after bumping higher the month before.
The Commerce Department reports housing starts fell 6.8% last month to a seasonally adjusted annual rate of 1,215,000. The February rate was revised was revised up to 1.303 million from 1.288 million.
Even with the decline, the march rate of construction is up 9.2% from the same period a year ago.
Groundbreaking for single-family houses was down 6.2% to a rate of 821,000. Construction of apartment buildings -- buildings with five units or more totaled 385,000, down 6.1%.
Still, the National Association of Home Builders (NAHB) managed to find something encouraging about the report.
"The three-month moving average for single-family starts has reached a post-recession high, which shows that this sector is continuing to firm," said NAHB Chief Economist Robert Dietz. "We can expect further gains in single-family production throughout the year, while multifamily starts should level off."
Building permits
The construction outlook in the months ahead was fairly encouraging.
Privately-owned housing units authorized by Building permits authorizing new-home construction were up 3.6% from February to a seasonally adjusted annual rate of 1,260,000, and 17.0% higher than March 2016.
Within that, though, authorizations for single-family starts fell 1.1% 1.9%, while multi-unit permits shot up 18.3%.
The complete report is available on the Commerce Department website.
---