---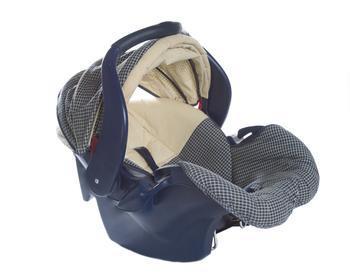 In the wake of 43 infant fatalities from 2007 through June of 2013, the U.S. Consumer Product Safety Commission (CPSC) has approved a new federal mandatory standard to improve the safety of hand-held infant carriers.
The new federal standard incorporates by reference the voluntary standard, Standard Consumer Safety Specification for Hand-Held Infant Carriers, with one modification that clarifies that semi-rigid hand-held bassinet/cradles, such as Moses Baskets, are within the scope of the standard.
The carriers
A hand-held infant carrier is a freestanding, rigid or semi-rigid-sided product intended to carry an occupant whose torso is completely supported by the product to facilitate transportation by a caregiver by means of hand-holds or handles.
Most hand-held infant carriers also serve as child restraint systems (car seats) for automotive use and are regulated by the National Highway Traffic Safety Administration (NHTSA). Products that fall within the hand-held infant carrier standard include hand-held infant carrier seats (child restraint system for vehicles) and hand-held bassinet/cradles (including Moses baskets).
In addition to the afore-mentioned fatalities, CPSC estimates there were about 66,000 hospital emergency room-treated injuries between 2007 and 2013 related to hand-held infant carriers. The majority of the injuries occurred from falls.
Consumers sound off
ConsumerAffairs has heard from dozens of consumers regarding problems with various brands of infant carriers. Among them:
Tanja of St. Helens, Ore., writes that the seat pad on her

Touriva

car seat kept on having issues coming undone. She says that while she was driving one day, her son started crying. "I checked to see what was wrong, and he had the elastic strap around his neck from the seat coming undone. We after then made sure and put a lot of Velcro in the most vulnerable places. To top it all off, the other day, he was in his car seat and I heard a pop. The bar that goes across in front had popped out of the hole where it is held, and it is completely broken now, not to mention unsafe."

Nathaniel of West Covina, Calif., says he has had his EVENFLO Auro On the Go - Travel System for 11 months and has had many problem with it. "For example," he writes in a

ConsumerAffairs post

, "about 4 months ago the mechanism in the handle located on the carrier broke so we cannot use the carrier to carry our son in it anymore, on the stroller the rear-right wheel has fallen off a few times already and will not stay on, it seems the plastic cap has wore off inside, the last but main concern is the seat will keep unsnapping from the base and swings almost 90 degrees backwards. We have had this system for about 11 months now and has proven to be very dangerous to my son."
The effective date for the new mandatory hand-held infant carrier standard is six months after the final rule is published in the Federal Register.
---