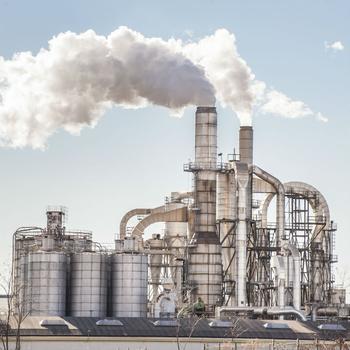 The Environmental Protection Agency (EPA) released a 289-page report yesterday detailing the impact of President Trump's Affordable Clean Energy (ACE) rule.
The new rule effectively reverses President Obama's efforts to cut power plant carbon pollution under the proposed Clean Power Plan. The Obama administration was working to instate federal regulations to cut carbon dioxide emissions and use less coal in favor of clean energy sources. The Clean Power Plan was blocked by court battles in 2016, as many Republican attorneys general thought the federal government was overstepping its power.
While the Trump administration touts ACE as a way to create new jobs and eliminate government regulations, the EPA has found that it could lead to 1,400 premature deaths every year by 2030, in addition to up to 15,000 new cases of upper respiratory problems, a rise in bronchitis, and tens of thousands of missed school days.
The agency also noted that the new regulations would "increase emissions of carbon dioxide" and "increase the level of emissions of certain pollutants in the atmosphere that adversely affect human health."
By contrast, the EPA previously reported that the Clean Power Plan would have helped avoid up to 300,000 missed school and work days, 3,600 premature deaths, and 90,000 child asthma attacks by the year 2030.  
The Affordable Clean Energy rule
Acting EPA Administrator Andrew Wheeler signed ACE into effect earlier this week and reported that the rule allows each state to make its own regulations regarding their emission standards for coal-fired plants. One of the main goals is to have less involvement from the federal government. According to Wheeler, ACE would allow "the states and regulated community the certainty they need to continue environmental progress while fulfilling President Trump's goal of energy dominance."
Critics were quick to comment on the rule, as many see it as a step backwards in the fight to tame global warming.
"The Trump administration sees political value in this rollback, but our health and the economic promise of clean energy is at stake," said former Vice President Al Gore.
In the report, the EPA did not address the numbers previously reported regarding the Clean Power Plan. Instead, it focused on comparisons to today's levels -- which are in a downward trend.
"Compared to the world as it stands now, the ACE rule will result in dramatic reductions in emissions, including CO2, mercury, and fine particulate matter precursors, as well as any resulting mortality and morbidity effects (like asthma hospitalizations)," the statement said.
The plan
In the ACE proposal, the Trump administration has detailed several different ways states can go about regulating coal-fired power plants, as well as what the health-related consequences would look like in each scenario.
It is in the situation the agency considers most likely to occur where the premature death toll would increase, as would heart and lung disease and chronic problems like asthma and bronchitis. The Trump administration's analysis found that 48,000 new cases of what it describes as "exacerbated asthma" would occur each year by 2030.
According to Mr. Wehrum, a former coal industry attorney, there would be "collateral effects" on pollutants compared to the Obama administration's proposed plan.
"We have abundant legal authority to deal with those other pollutants directly, and we have aggressive programs in place that directly target emissions of those pollutants," Wehrum said.