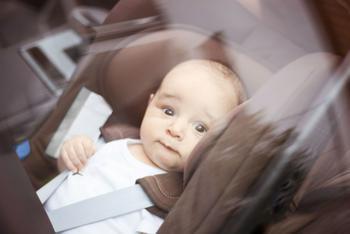 Hot car-related deaths happen all too often in the U.S. Since 1998, an average of 37 kids per year have died from being left alone in a hot car, according to KidsAndCars.org.
Motivated by this statistic and the recent death of a 2-year-old boy from Florida, two dads set out to invent a way to keep senseless, hot car fatalities from occurring.
Fadi Shamma and Jim Friedman created the Sense A Life system, which is comprised of two parts: a foam disc that goes in the child's car seat and a bluetooth sensor to be placed under the driver's seat.
When the driver opens the car door, an audio alert reminds them to remove their child from the seat. If the child isn't taken out of the car, the sensors communicate with the parent's cell phone to let them know. If the child still hasn't been retrieved one minute later, an alert is sent to the driver's designated emergency contact.
Forgotten Baby Syndrome
The temperature inside a car can reach deadly levels in as little as ten minutes if the outside temperature is in the low 80s, according to the National Highway Traffic Safety Administration.
When hot car tragedies occur, it is often the result of rapidly rising temperatures and a temporary glitch in a parent's brain. While it might be tempting to think that you could never leave your child in a hot car, scientific studies say otherwise.
"Forgotten Baby Syndrome" is "where the parent completely loses awareness that the child is in the car," David Diamond, professor of psychology, molecular pharmacology and physiology at the University of South Florida, told ABC News.
"It's our brain's habit system," he explained. "It allows you to do things without thinking about it. That plan we have to stop a habit seems to get suppressed. We lose awareness of our plan to interrupt that habit. These different brain systems actually compete against each other."
'Can happen to anybody'
Shamma and Friedman are also working with KidsAndCars.org to push for passage of a law that would require similar technology to be built into all new cars.
"It can happen to anybody," Shamma told The Tampa Bay Times. "You want to have that peace of mind." That peace of mind, he adds, shouldn't come with an exceptionally high price tag.
"We want it to be in every car. We don't want it to be a financial burden," Shamma said. The goal is to keep the retail price under $100, the creators said.