---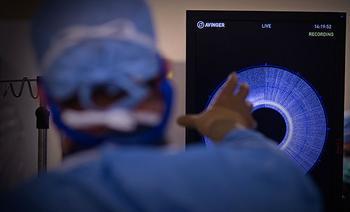 Lots of proud parents and grandparents have framed "fetal photos" of their offspring proudly displayed. Soon they'll be able to add before-and-after images of their own clogged-up arteries. 
That's because the Food and Drug Administration (FDA) has approved a device called the Pantheris -- an image-guided gadget that, to put it plainly, scrapes built-up plaque out of patients' plumbing. 
What's different about the Pantheris, technically called a lumivascular atherectomy system, is that it contains a tiny camera that lets the surgeon see what he or she is doing more clearly than with the X-ray-guided devices now being used.
"We are excited to introduce the system to patients and physicians, fulfilling our mission to radically change the treatment of vascular disease," said John B. Simpson, M.D., Ph.D., founder and chairman of Avinger, Inc., which manufactures the Pantheris. "I offer a special thanks to all the patients and investigators who have made this possible."
Ringside seat
The Pantheris is the first device that lets physicians actually see inside the artery during an artherectomy procedure, reducing the patient's exposure to X-rays and giving the surgeon a real-time view of the interior of the artery instead of relying on X-rays and touch and feel. 
The artherectomy procedure is used to treat peripheral artery disease (PAD), which afflicts nearly 20 million adults in the U.S. The condition is caused by a build-up of plaque in the arteries that blocks blood flow to the legs and feet.
Often dismissed as normal signs of aging, symptoms of PAD include painful cramping, numbness, or discoloration in the legs or feet. PAD can become so severe that patients and physicians often resort to invasive bypass surgeries, which can result in even greater health risks and lengthy, painful recoveries. In severe cases, patients often face amputation, the worst-case scenario associated with PAD.
"Atherectomy is a proven treatment that relieves pain and restores blood flow, and Pantheris has been eagerly anticipated in the clinical community because it is a leap forward in atherectomy technology compared to what we have had in the past," said Thomas Davis, M.D., of St. John Hospital and Medical Center in St. Clair Shores, Michigan. "Now, for the first time, we are able to see exactly where we are removing the plaque, and are better able to leave the healthy artery alone."
Avinger received preliminary clearance from the FDA for the Pantheris system in October 2015. Since then, 130 patients were treated and followed for six months with not a single event of vessel perforation, clinically significant dissection, or late aneurysm, the company said.
---