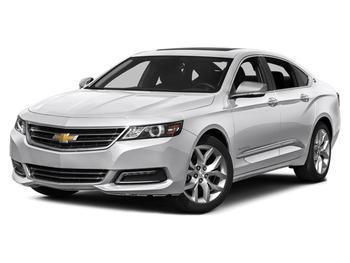 New car prices have continued to rise, with the average transaction price now $35,000 or more.
That puts the average vehicle -- remember, $35,000 is just the average -- out of reach for a lot of consumers. Sure, you can lease it or finance it for the rest of your life, but that's not really a good way to buy a car.
Fortunately, there are a lot of new cars that sell for well below the average price. For example, the Kia Soul sells for around $18,000. The Toyota Corolla goes for just over $20,000. The Honda Fit sells for around $17,000.
Granted, these economically-priced new cars are pretty small, and might not be as practical for a family. So Kelley Blue Book (KBB) has offered up some alternatives -- larger, more comfortable rides that are still well below the average transaction price.
Chevrolet Impala
Number one on KBB's list is the 2017 Chevrolet Impala, starting at around $27,000. KBB says the Impala offers an impressive combination of spaciousness, comfort and value for families and individuals seeking a full-size sedan.
Another Chevrolet, the Malibu, also packs a lot of room and comfort for a below-average price. The Malibu got a make-over in 2016, winning praise from critics and consumers alike. Besides the expected car comforts, the Malibu also offers available 4G LTE Wi-Fi, Apple CarPlay and wireless phone charging. It sells for just under $22,000.
Now in its 35th model year, the 2017 Toyota Camry delivers a wide range of attributes, including roominess, features, and an affordable sticker price. In most cases, you can drive away in one for around $22,000.
Honda Accord
The 2017 Honda Accord is a top seller year after year. Its high quality, smooth ride and popular features make it a top seller year after year. It sells for around $22,000.
Despite its growing popularity, the Subaru Outback is still priced under $30,000. KBB says the Outback is not just rugged, but also offers a cushy interior and soft ride. It sells for around $26,000.
Of course, if you load any of these cars down with options you can probably get the price over $35,000. But if it's a smooth ride and affordable payment you're seeking, you've got plenty of choices here.