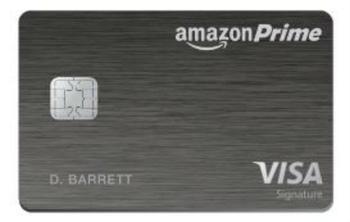 Amazon.com is teaming with Chase to offer a new rewards credit card that pays 5% cash back on all Amazon purchases, 2% at gas stations and restaurants, and 1% everywhere else.
The catch? To get the card you must be a member of Amazon Prime, which carries a $99 fee.
Still, NerdWallet credit card expert Sean McQuay says the new Amazon Prime Rewards Visa Signature Card is a pretty impressive offering.
"By offering a 5% rewards rate, this card is matching the offer of the Amazon Prime Store credit card, an Amazon-only card backed by Synchrony bank, but surpasses that card by offering a much better online experience and compatibility with more than one store," McQuay said in an email to ConsumerAffairs. "However, the new card does not offer special financing for large purchases. With high rewards, a metal body, and no annual fee, this is a great option for regular Amazon shoppers."
Inducement to join prime
Amazon, of course, is hoping the prospect of 5% off on purchases is just one more inducement to consumers to sign up for Prime, which also offers free 2-day shipping on Amazon purchases and access for Amazon's entertainment package.
Amazon says existing Amazon Rewards Visa Signature cardmembers with an eligible Prime membership will automatically be upgraded to the new card, a newly designed metal card that also has no foreign transaction fees.
"We are adding even more value to Prime by offering rewards on Amazon and everywhere else you shop," said Max Bardon, an Amazon vice-president.
Other perks
In addition to the cash back rewards, Amazon says the rewards have no cap on what can be earned aand never expire. They are redeemable on products purchased on Amazon.
There is no annual fee, other than the $99 cost of a Prime membership, which carries other benefits.
Other perks include zero liability for fraud and 24/7 concierge service, through Visa Signature.