---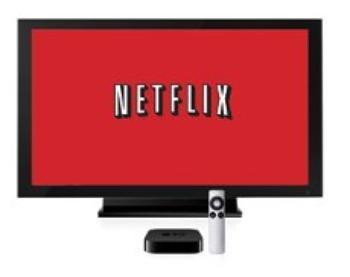 No one has more at stake in the performance of Internet service providers (ISPs) than Netflix. The movie streaming service is the country's biggest user of Internet bandwidth by most measures -- its customers rate its performance based largely on how well their local ISP delivers.
The movie was choppy and pixellated? Subscribers are likely to curse Netflix, when in fact the local ISP is often to blame. So, Netflix keeps a careful eye on local ISPs' performance, using its own testing protocols and surveying customers to ask how their streaming experience was.
Today, Netflix released the first of what it says will be a monthly report of ISP performance. Not surprisingly, the top spots were taken by Google Fiber and Verizon FiOS -- the only major ISPs using "pure" fiber-to-the-home delivery.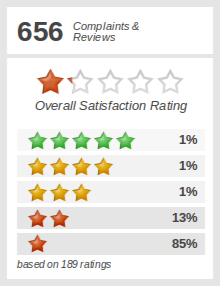 Google Fiber, which currently operates only in a portion of Kansas City, scored an average of 2.55 Mbps in November, with FiOS closed behind at 2.19 Mbps. Unsurprisingly, DSL services came in behind all the major cable/fiber services, with the best performer averaging just 1.42 Mbps in November.
"Our 30 million members view over 1 billion hours of Netflix per month, so we have very reliable data for consumers to compare ISPs in terms of real world performance," said Ken Florance, Vice President of Content Delivery at Netflix, in a blog posting.
"AT&T U-verse, which is a hybrid fiber-DSL service, shows quite poorly compared to Verizon Fios, which is pure fiber. Charter moved down two positions since October. Verizon mobile has 40% higher performance than AT&T mobile," Florance said.
Here is a Netflix chart showing the November results: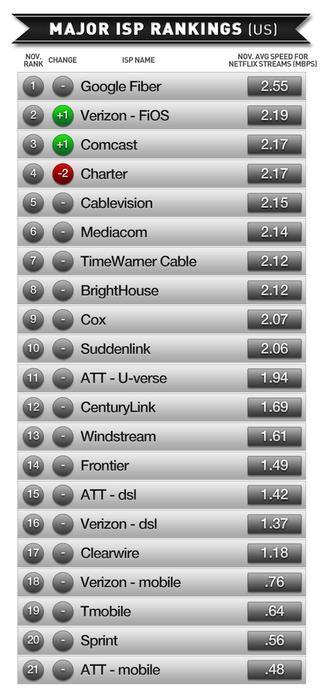 ---