---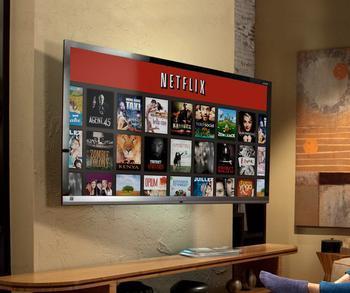 While it may have led to strife among couples due to "cheating" of sorts, Netflix ended 2016 on a high note among consumers. The company ended the year far ahead of its competitors Amazon and Hulu in the streaming video business, and critics have lauded its original content.
Now, new research shows that, for the first time, Netflix is even more popular among consumers than DVR or on-Demand services (VOD). An annual survey conducted by Leichtman Research Group Inc. shows that 54% of U.S. consumers now have Netflix in their household, while 53% have DVR. This is a big change from 2011, when 44% of consumers used DVR and only 28% used Netflix.
The news may be viewed negatively by traditional cable companies, which have warily regarded Netflix for some time now. However, additional findings from the study show that many TV services are changing the game and finding prominence.
"On-Demand and time shifting TV services like DVR, VOD and Netflix have permanently changed the way that people can watch TV. Today, over 50% of households have a DVR and, for the first time in the fifteen years of this study, over half of households have Netflix," said Bruce Leichtman, president and principal analyst for Leichtman Research Group, Inc.
Survey findings
While Netflix has risen above DVR and VOD, the survey shows that many people choose to combine the services for an optimal TV viewing experience. The researchers found that of the 1,211 households included in the study, 30% use two of the three choices, while 14% use all three.
Other findings of the survey include:
64% of households get a subscription video on-Demand (SVOD) service from Netflix, Amazon Prime, and/or Hulu -- 51% of all adults stream any of these services on a monthly basis
23% of all adults stream Netflix daily -- compared to 6% in 2011
81% of Netflix streaming users watch Netflix on a TV set
64% of pay-TV subscribers have a DVR -- compared to 49% in 2011
60% of DVR households have DVR on more than one TV -- compared to 33% in 2011
65% of all cable and Telco video subscribers have used VOD from their current provider
58% of all cable subscribers used VOD in the past month -- compared to 42% in 2011
While streaming and recording video has become wildly popular, the researchers say that traditional TV viewing hasn't completely fallen off of consumers' radars. "Traditional TV viewing still exists. For example, 46% of adults agree that they often flip through channels to see what's on TV," said Leichtman.
---