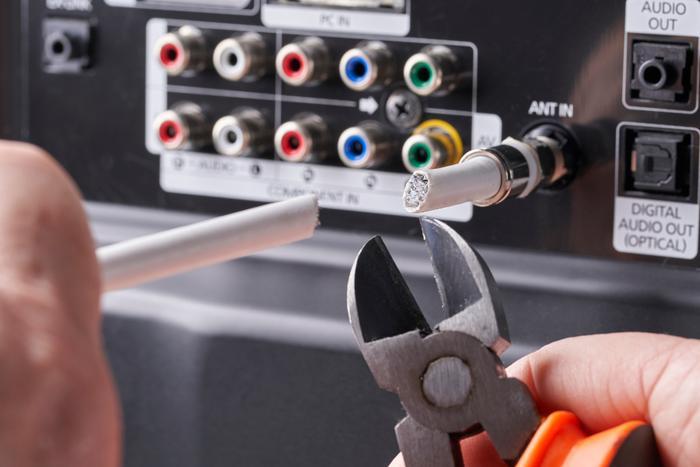 Roku -- the streaming device company -- has revealed the findings of its 2020 Cord Cutting study, showing that consumers are cable-cutting like crazy amid the coronavirus outbreak.
The study found that an estimated 32 percent of all U.S. households with TV sets live their lives without any kind of traditional pay TV subscription (cable, satellite), and an additional 25 percent of households that Roku pegs as "Cord Shavers" cut back on their service. Peeling back another layer, 45 percent of those Cord Shaver households said they're pretty much a sure shot to cut the cord completely in the next six months.
"While we entered 2020 with significant momentum around cord cutting, we're now seeing that the COVID-19 pandemic and the pause of live sports has caused consumers to rethink how they access home entertainment and what they are willing to pay," said Roku Chief Marketing Officer Matthew Anderson. 
"It's clear that value matters more than ever and the abundance of free content, free trials to premium streaming services and the savings that consumers achieve are fueling the shift to streaming."
Sports shutdown fuels cord cutting
Nearly all of the cord-cutters say they're happy they made the move. In fact, many admit that they wish they had done it sooner. When asked what factors led to making the switch from cable/satellite bundles to streaming-only, saving money on home entertainment overall came back as the predominant reason. 
With the pandemic shutting down most of the sports world, that's reason enough for sports fans, in particular, to cut the cord. 
About one-fifth (17 percent) of recent Cord Cutter households said they would come back to traditional pay TV if and when live sports returns. Another 31 percent said they are likely to subscribe to a single live sports streaming service, like ESPN or NFL Sunday Ticket, rather than pay for a package that includes sports or other channels they're not interested in. The remainder of the Traditional and Cord Shaver households (52 percent) say they are likely to reduce their packages even further if televised live sports on traditional pay TV do not return.
Roku is playing hardball
Roku's original angle was to frame itself as a neutral party to content creators and as an affordable option with cord-cutters. However, now that the service has picked up some steam -- doubling its user base in the last two years -- and with NBC/Universal and Disney buying up the Hulu's of the world, Roku's starting to flex its muscles a bit.
"Roku has every right to play hardball with content providers. The company has created a valuable and popular platform for streaming video, and monetizing that platform is its job," suggests TechHive's Jared Newman. 
Newman cites Roku's clash with Fox in February, when the company went nose-to-nose with the provider and threatened to pull its apps three days before the Super Bowl, reportedly over advertising revenues. "The companies worked things out in time for the big game, but not without angering Roku owners in the process. We're now seeing the cycle repeat itself with HBO Max and Peacock," he said.