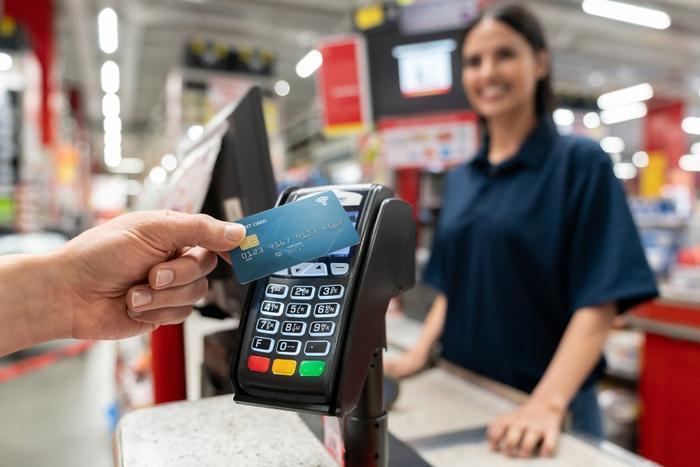 Is there a "contactless" credit or debit card in your wallet? During the coronavirus (COVID-19) pandemic, it might be a handy thing to have.
It's possible you have one and don't realize it. A recent survey by CompareCards found that nearly half of consumers couldn't identify the contactless symbol, which is made up of four curved lines, indicating the card simply has to be waved over or tapped on a terminal in order to record a sale.
The survey found that men were more likely than women to be familiar with the symbol, and millennials were more familiar with the symbol than other generations. The use of contactless payment systems has become more popular as more people try to limit touching objects as much as possible.
The survey confirmed that about one in three consumers said they were using more contactless payments – either mobile payments or contactless credit cards – because of the coronavirus outbreak. MasterCard reports recent increases in contactless spending, with about a 40 percent increase in contactless payments in the first quarter.
Age gap
Even with the increase, there's a rather large age gap among those who said they were using contactless payments more frequently. Consumers between the ages of 18 and 54 were more than twice as likely to say they've increased their usage of contactless payments as those 55 and older.
Whether through a card or an app on your mobile device, contactless payments systems use radio-frequency identification (RFID) or near field communication (NFC) to make wireless payments, removing the need to insert a card into a terminal and punch in a code.
An embedded chip and antenna enable consumers to wave their card, fob, or handheld device over a reader on the point of sale terminal. Consumers who have contactless payment capability seem to like it.
The survey shows that about 39 percent of consumers now say contactless payment is their preferred means of making a purchase. About an equal number prefer paying the old fashioned way. CompareCards predicts that contactless payment use would be much higher if more people recognized the symbol on their card.
Both your card and the checkout terminal need to have the four curved lines. If you don't have a contactless payment card, you can turn your smartphone into one by downloading Apple Pay, Google Pay, or Samsung Pay.