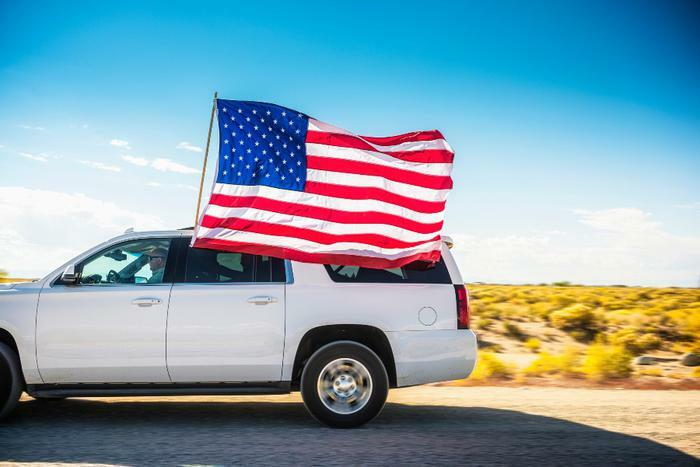 Despite near record-high gas prices and jammed airports, millions of Americans are expected to take a trip over the upcoming July 4th holiday.
AAA has predicted that 47.9 million people will travel at least 50 miles from home over the holiday period, which extends from June 30 through July 4. That's an increase of 3.7% over holiday travelers in 2021 and could approach the travel volume in 2019, the last year before the pandemic.
Even though gas prices have recently retreated from $5 a gallon, the number of people who will travel by car could hit a new record. AAA estimates that 42 million Americans will hit the road.
Airline turmoil
The turmoil that is gripping the airline industry could be a factor for those who choose to travel by ground instead of air. Over the just-completed Father's Day-Juneteenth holiday, the nation's airlines canceled about 5,000 flights -- in some cases because they couldn't staff enough flight crews.
On Sunday – a day on which many travelers were trying to return home – airlines canceled 900 flights, with travelers using Delta Air Lines being the hardest hit.
"A variety of factors continue to impact our operations, including challenges with air traffic control, weather, and unscheduled absences in some work groups," Delta said in a statement. "Canceling a flight is always our last resort, and we sincerely apologize to our customers for the inconvenience to their travel plans." 
Airlines have been slowly paring back their flight schedules over the last two months because of a lack of personnel, including pilots. Even so, AAA says Americans are still in the mood to get out of the house after more than two years of the COVID-19 pandemic.
"The volume of travelers we expect to see over Independence Day is a definite sign that summer travel is kicking into high gear," said Paula Twidale, senior vice president of AAA Travel. "Earlier this year, we started seeing the demand for travel increase and it's not tapering off. People are ready for a break and despite things costing more, they are finding ways to still take that much-needed vacation."
Gas price movement is unpredictable
As for people driving to their holiday destinations, Patrick DeHaan, head of petroleum analysis at GasBuddy, says it's hard to know what to expect at the gas pump.
"We are seeing a decline right now, but how long that lasts is hard to know, given wholesale gas prices are up sharply today," DeHaan told ConsumerAffairs. "I think we could see a decline for another five to eight days, but then prices could bottom out and may inch back up for now. I don't expect much significant relief barring a recession as demand for gasoline remains high."
President Biden's request to Congress to suspend the federal gasoline tax for three months is unlikely to be passed before the holiday and would only lower prices by 18 cents a gallon. As of today, the national average price of regular gas is $4.95, down only slightly from its recent record high of $5.01 a gallon.