---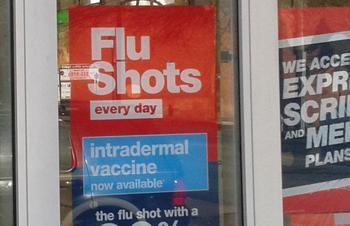 If you got a flu shot this year, it doesn't mean you won't get the flu. Thousands of people who got the vaccine report getting sick anyway.
"Reports of influenza-like-illness (ILI) are nearing what have been peak levels during moderately severe seasons," said Dr. Joe Bresee, of the US. Center for Disease Control and Prevention (CDC). "While we can't say for certain how severe this season will be, we can say that a lot of people are getting sick with influenza and we are getting reports of severe illness and hospitalizations."
The CDC reports that 25 percent of reported flu cases are among people who had gotten flu shots. But the health agency says that means 75 percent of people who have gotten sick didn't get the vaccine, meaning if you haven't gotten a flu shot you should.
Get a vaccination
"Anyone who has not already been vaccinated should do so now," Bresee said. "And it's important to remember that people who have severe influenza illness, or who are at high risk of serious influenza-related complications, should get treated with influenza antiviral medications if they get flu symptoms regardless of whether or not they got vaccinated. Also, you don't need to wait for a positive laboratory test to start taking antivirals."
Government health data show the number of consumers seeking treatment for flu-like symptoms has been "elevated" for four consecutive weeks -- jumping from 2.8 to 5.6 percent. Last flu season, which was relatively mild, peaked at 2.2 percent.
While the timing of influenza seasons also is impossible to predict, based on experience CDC says it's likely that flu activity will continue for some time. During the past 10 influenza seasons, ILI remained at or above baseline for an average of 12 consecutive weeks.
Nearly every state has reported flu activity with 29 states and New York City now reporting high levels of influenza-like-illness and another nine states reporting moderate levels of ILI.
Avoiding the flu
Besides getting a flu shot, consumers should take other steps to protect themselves:
Flu germs are spread much like cold germs. When it's possible to avoid being in large groups of people, do so.
Wash your hands regularly.
When grocery shopping, take advantage of the free sanitary hand-wipes available at most stores. Wipe your hands thoroughly after handling grocery carts.
Take steps to keep up your body's resistance to germs. Get plenty of sleep and vitamin C.
If you do get flu-like symptoms, seek treatment right away. Flu can turn into pneumonia and result in hospitalization and even death.
---