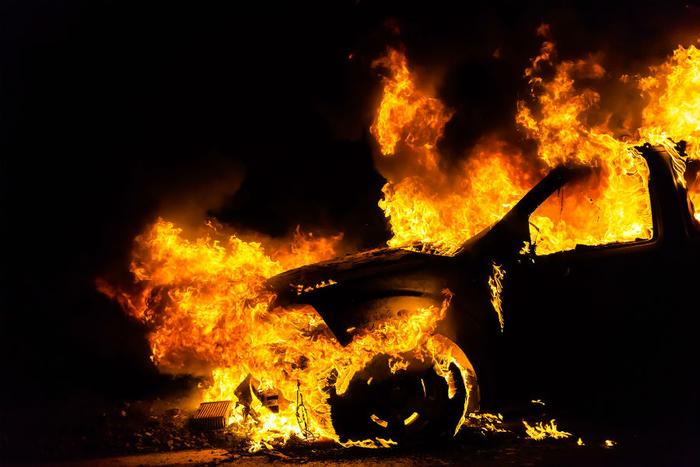 A defect that the Center for Auto Safety recently warned is causing certain Kia and Hyundai cars to randomly catch fire may have nearly killed a representative on the Nashville City Council.
Councilman Jonathan Hall told a local news channel that he was driving on the highway last week when he heard a strange sound coming from his Kia. He noticed that the car was "acting weird," but he didn't think much of it. Then another car in the next lane over started blaring its horn. The driver pulled up next to him.
"Hey, there's fire coming underneath the car," Hall recounts the other driver shouting at him.
He quickly pulled over, grabbed his items and coat and ran out of the car. Suddenly, he told the news station, he heard a loud "boom" sound. Photographs that Hall posted on social media show the entire car engulfed in flames. It all happened in a matter of seconds, he said.
"If I had been slower or waited a few seconds longer, I wouldn't be sitting here," Hall told the station.
Consistent reports of cars catching fire
The news report does not clarify what make and model of Kia that Hall was driving, and he has not yet returned messages from ConsumerAffairs. But the report appears to be part of a disturbing trend.
The Center for Auto Safety earlier this month issued a statement saying that certain Kia and Hyundai cars are at risk of randomly catching fire. According to the advocacy group's research, consumers have reported non-collision fires in their Kia or Hyundai cars to federal regulators every day for the past four months.
The group says that Kia Sorento and Optima models and Hyundai Sonata and Sante Fe models from 2011 through 2014, as well as Kia Soul models from 2010 to 2015, could have the defect and should be recalled. A total of 2.9 million cars are at risk, according to the group. One man in Ohio reportedly died in one such fire.
Kia cites fact-finding mission
Kia's press team has not yet commented on the Nashville councilman's case. The CEOs of both companies were also recently invited to testify before the Senate Commerce Committee, but neither has indicated whether they plan to do so.
"We are in the process of responding to this recent inquiry regarding vehicle fires,"  Kia CEO Han-woo Park told Automotive News. "The technical finding is the first. The first step is fact finding."
In an interview with Automotive News, Hyundai CEO Wonhee Lee claimed Hyundai and Kia are "almost at the bottom" of non-collision fire risks.
"Ironically, Hyundai and Kia, statistically in the U.S. market, are not the companies ranked at the top of vehicle anti collision fires," Lee reportedly said.
On Monday, Hyundai announced that Lee was stepping down from his role and would serve merely as an advisor to the company. A replacement has not yet been named.