---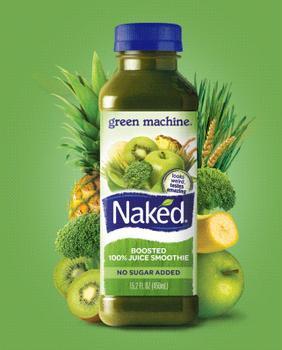 Anyone who drinks a concoction containing broccoli and spinach must be doing so because they expect to reap a health benefit of some kind.
But since it also contains apple, kiwi, mango, banana and other tasty fruits, Naked Juice's "Green Machine" smoothie is actually delicious, or so we found when we swallowed hard and bravely downed a bottle while navigating the treacherous shoals of the New Jersey Turnpike over the Labor Day.
See, there really is no limit to the risky research we consumer reporters will take to dig out the naked truth.
Naked not transparent
But delicious just isn't enough for some people and a class action lawsuit claims that Naked Juice is not being sufficiently transparent about what's really in those bottles. The company denies all the claims but has agreed to pay $9 million to settle the case, which could be good news for habitual guzzlers.
Under terms of the settlement, anyone who bought Naked Juice in the last six years could get up to $75. Full details, including instructions for filing a claim, are at the class-action's website, NakedJuiceClass.com.
The suit challenged the company's claims of "100 percent juice," "100 percent Fruit," "From Concentrate," "All Natural," "All Natural Fruit," "All Natural Fruit + Boosts" and "Non-GMO.
Consumers who bought the beverage between Sept. 27, 2007 and Aug. 19, 2013 can request a claim form electronically or through the mail but must do so by Dec. 17, 2013.
Those who bought the beverage and still have proof are entitled to cash payment of up to $75 while those without proof are eligible for up to $45, depending on how much you spent on Naked Juice.
The lawsuit claims that the specific smoothies named in the suit contain ingredients that are not 'All Natural' because they contain GMOs (or Genetically Modified Organisms). Naked Juice, which looks like a cute little garage start-up but is actually owned by PepsiCo, denies all these claims.
"Our juices and smoothies are made with all-natural fruits and vegetables-with no added sugar and no preservatives," the company said in a statement. "In some products, we also include an added boost of vitamins. Naked juice and smoothies will continue to be labeled 'non-GMO,' and until there is more detailed regulatory guidance around the word 'natural' -we've chosen not to use 'All Natural' on our packaging."
---